We're proud to partner with Heartland Steel to provide the latest and greatest warehouse storage products, including new bolted rack guards that work hard to prevent accidents and make operations more productive. Heartland Steel, a USA manufacturer, is passionate about improving the overall safety, efficiency, and effectiveness of the material handling industry so our customers are safer, more productive, and more profitable.
When running a warehouse operation, pallet rack guard rails and pallet rack guards are absolutely essential. In fact, they're required by OSHA to make sure pallet structures have the strength and integrity needed to withstand potential accidents with forklifts and other machinery. 
Leading warehouse equipment manufacturer Heartland Steel provides innovative, USA-made pallet rack protective equipment that we ship and install fast.
Why order pallet rack protection through WSH
Over the many decades we've worked in this space, we've teamed up with leading manufacturers of warehouse handling equipment to provide only the best, most high-quality materials. We're working with Heartland Steel to provide customers with the newest guardrail technology: The new, bolted guardrail design is low-profile, comes in OSHA Safety Yellow, and is able to be shipped and installed in parts. Multiple parts mean lower maintenance and freight costs. Also, the individual pieces allow for easier handling and installation once on site, and the bolted design allows for damaged parts to be replaced separately, which saves on total cost of ownership. 
An added bonus: Because our partner Heartland Steel mass produces these rails, we have the benefit of offering accelerated ordering, shipping, and installation. That's right – in just 2-3 weeks, WSH can have your order placed and installed — much faster than other warehouse storage suppliers.
About our partner, Heartland Steel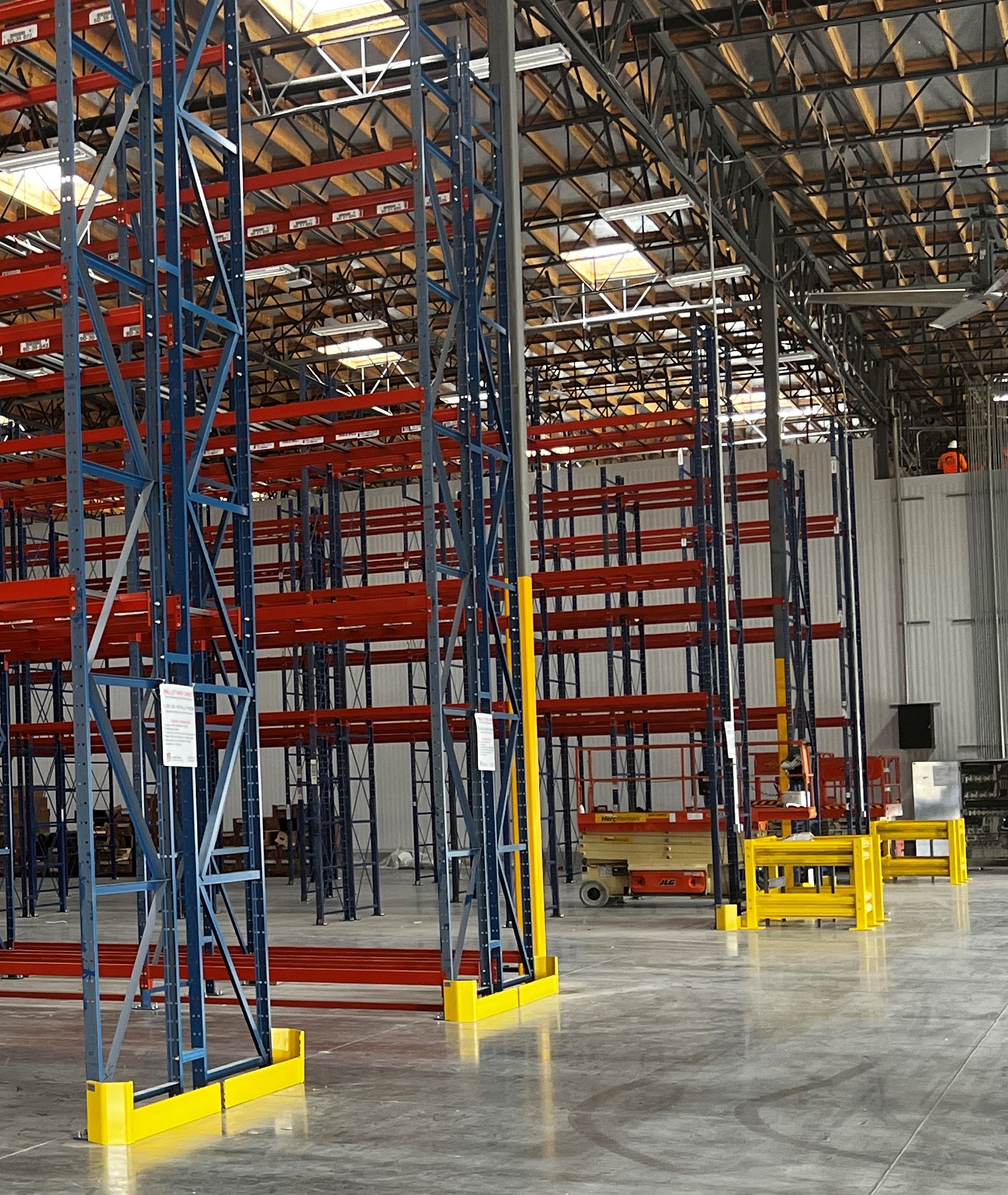 Heartland Steel is an industry leading pallet racking & material handling manufacturer with multiple locations across the United States. They have in-house engineering and detailing teams that can custom design mezzanines, stairs, platforms, rack, safety products, and other warehouse needs. 
Heartland Steel is 100% focused on partners like WSH and their end users who rely on our products every day. Heartland Steel is proudly "Made in the Heartland, for the Heartland, by Heartland". 
Why warehouse operations need rack guards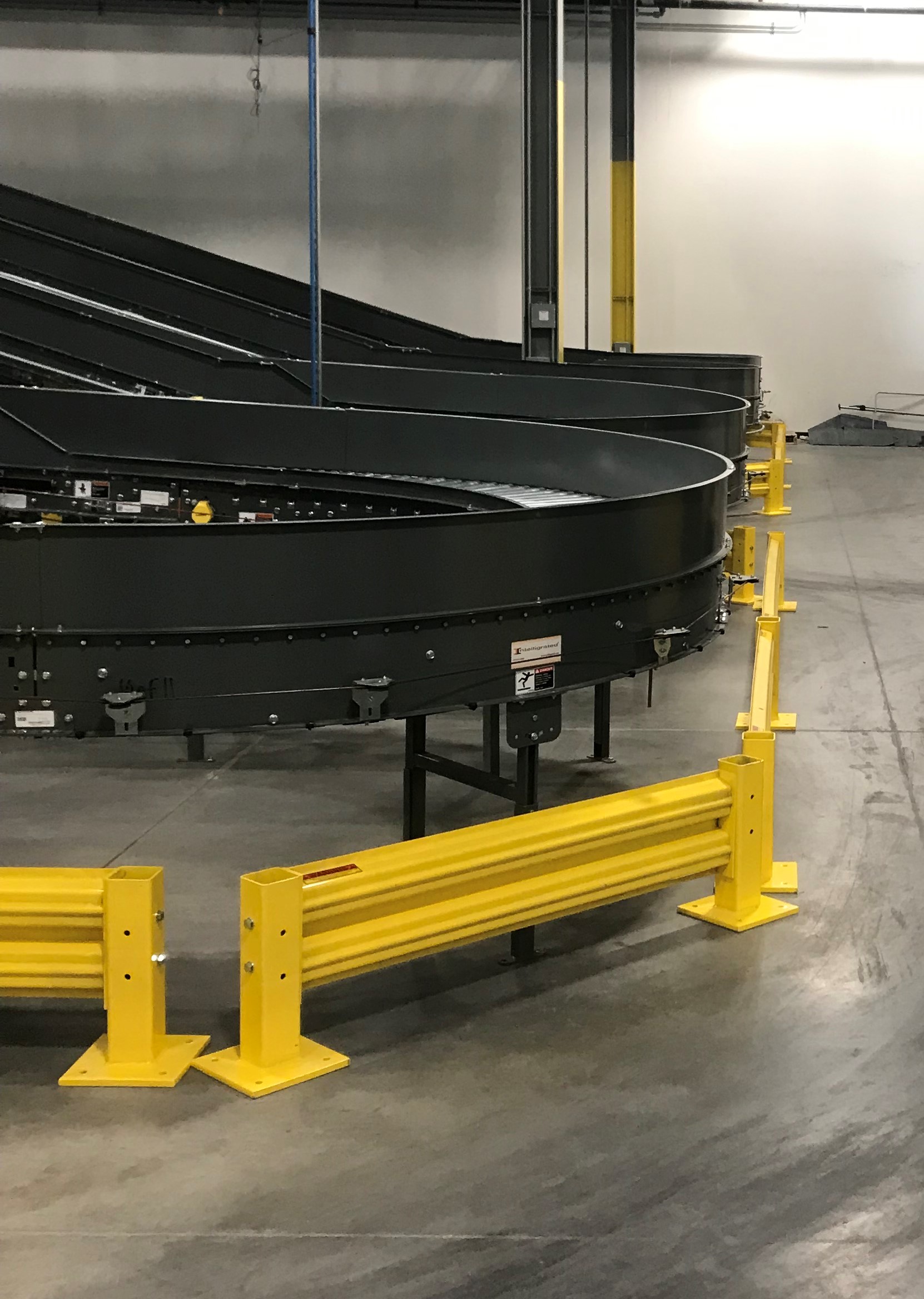 These bright yellow protective parts act as bumpers to prevent forklifts, pallet jacks, and other machinery from driving into and damaging your pallet rack and uprights. Protecting posts is the #1 thing you can do to prevent structure failures that lead to costly product damage and employee injuries. It's a small investment that can lead to long-term savings and safety measures, which is why they are one of our most popular products.
Guardrails aren't only good for fortifying pallet rack posts; they're also perfect for enclosing and protecting warehouse printer stations, conveyor belts, and other sensitive equipment from moving machinery. Western Storage & Handling (WSH) can work directly with your business to assess where guardrails are needed, and to order and install them within just a few weeks.
Learn more
Learn more about warehouse guardrail systems in this WSH case study.
Learn even more about pallet rack accessories on our blog.
Need guardrails for your warehouse? Contact us for a free consultation!
Call 303-937-8376 to set up an appointment.
Have you worked with us on a project? Google Business Reviews!
Serving Colorado, Eastern Wyoming and Western Nebraska.
We have both Denver and Colorado Springs locations! 
DENVER OFFICE
1630 West Evans Ave, unit L
Denver, Colorado 80110
Phone: 303-937-8376
COLORADO SPRINGS OFFICE
1880 Office Club Pointe
Colorado Springs, CO 80920
Phone: 719-272-8253