Reduce Retrieval Time
---

Western Storage and Handling of Denver Colorado works with the best Automotive Parts shelving manufacturers.
Automotive parts shelving can reduce retrieval time, technician downtime and customer waiting time. Western Storage and Handling has the right type of automotive parts shelving and storage units you need to solve these challenges.
We start with a full evaluation of your space and your needs then design a system that will maximize space and efficiency with as little downtime. Therefore you can get all the variety of industrial shelving, modular drawers and bulk shelving for your project. This will accommodate the wide variety of parts you store without skipping a beat with your customers.
If so, the experts at Western Storage and Handling (WSH) with offices in Denver and Colorado Springs have the right type of automotive parts shelving and storage units you need to solve these challenges. Efficiently. Effectively. Affordably.
---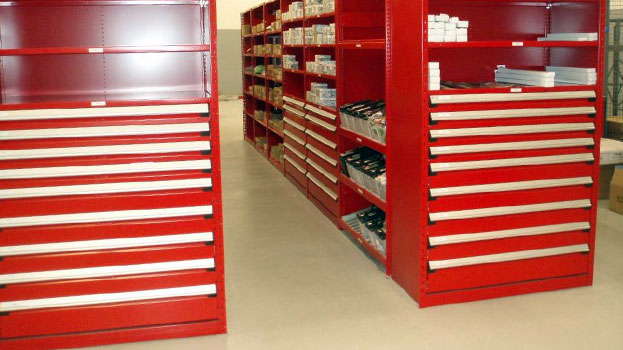 Automotive parts storage
As an automotive dealer, you know how important automotive parts shelving is to have an efficient, customer-focused service department. While well trained technicians are important, so are your storage systems.
For example, expensive cabinet housings can waste vertical space due to their limited height. Also, normal cabinet configurations can make it difficult to store larger items that are better suited for shelving units. With the right type of shelving and drawer combinations, related items can be stored together. In addition, you can modernize and significantly maximize your storage space and improve the efficiency of existing or new shelving units.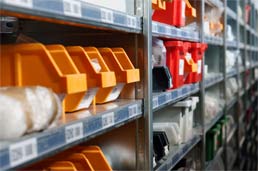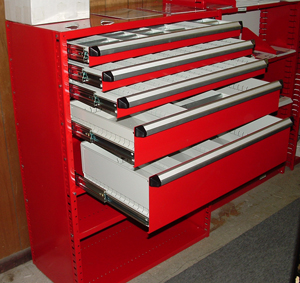 We understand your parts storage needs
At WSH, we understand that you want to store more in less space, while also improving the safety and productivity of your operation. And, we know that the wide variety of automotive parts you need to carry requires a combination of efficient:
High-density drawers
Sliding steel shelving
Bulk shelving to accommodate the larger and heavier parts
Specialty tire racks
Battery racks
Body parts racks
Borroughs storage products
To meet the needs of your operation in Colorado, Wyoming and Nebraska, we carry a full range of Borroughs storage products, which offer you the following key benefits:
Faster and more accurate parts selection
Better customer service and satisfaction
Increased productivity and efficiency
Optimized floor space
Tough, long lasting products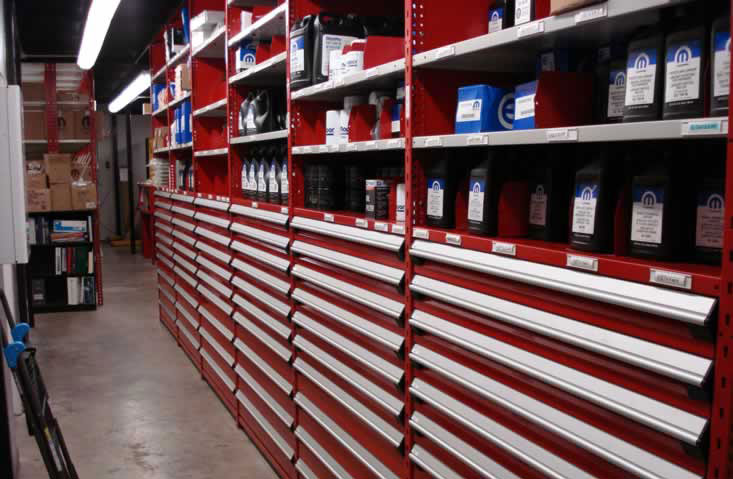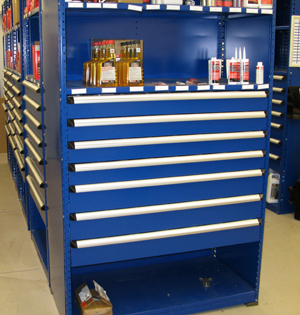 Industrial high-density Storage drawers
Industrial high-density storage drawers could be one of the most important products for your facility. WSH carries a wide range of drawers that feature:
Full extension to view entire contents
Sides that are positively attached to drawers
Ball bearing slide suspension for smooth operation
Soft cushion impact when closing and opening
Drawer fronts that are flush with posts for a custom look
Ability to support 400 pounds of evenly distributed load
Custom-configured dividers and partitions
These efficient high-density drawers are also versatile. For example, you can place them exactly where you need to create the right configuration for your operation. Plus, storage is optimized with our practically limitless choice of partitions and dividers.