WSH has relationships with the best manufacturers in the material handling industry, which ensures that our storage solutions will provide you with outstanding service – the first time and every time.
---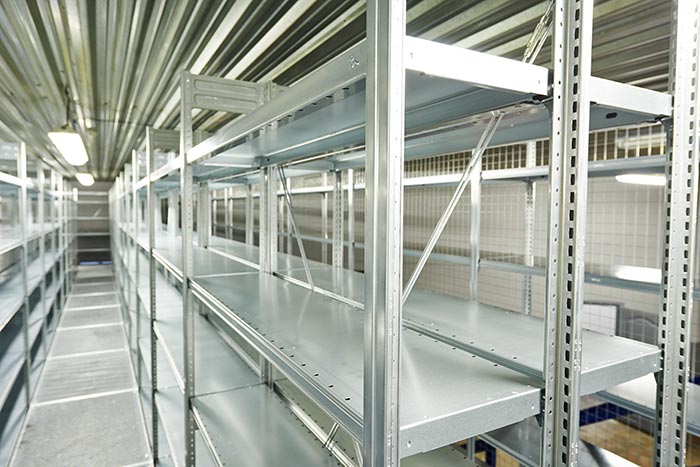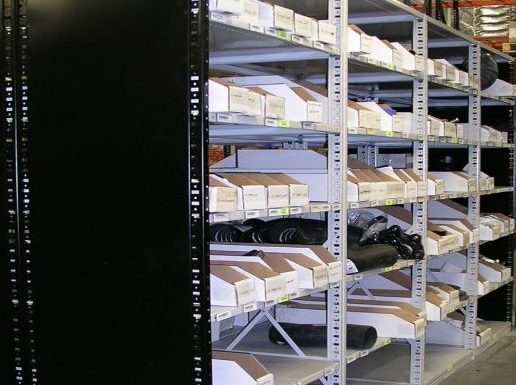 Industrial clip steel shelving
Industrial clip steel shelving is perfect for a wide variety of storage needs. It's particularly ideal for small to medium parts storage.
WSH basic clip steel shelving systems are configured from posts, shelves and compression clips making them easy to configure into any size or shape of space. They are then enhanced with bins, boxes, dividers, and drawers to create storage solutions maximized for efficiency.
This means that no matter what your industry or space size, we can create the perfect industrial shelving solution for your needs.
RIVET STYLE FRAME STEEL SHELVING
Rivet style steel shelving is the next upgrade for oversized and heavier item storage. Perfect for items with more dimension and mass, this shelving allows for wider spans and heavier capacities and allows you to use decks of wood, steel and wire for the storage surface.
Available in a number of widths and depths, rivet style shelving is capable of supporting higher weight capacities and can be customized, and flexible to fit your specific space and growing inventory needs.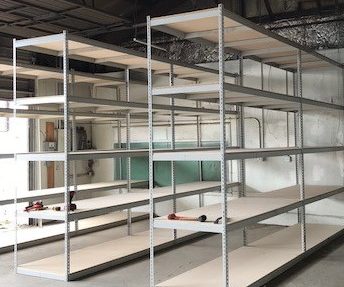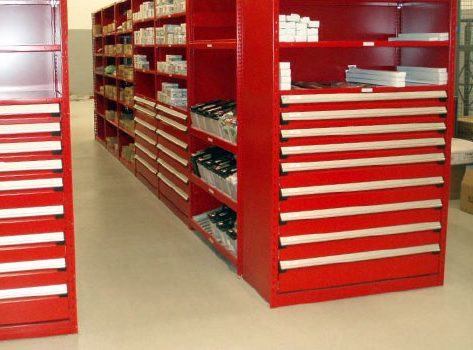 AUTOMOTIVE PARTS SHELVING
Automotive parts shelving can be a real beast -- we totally understand that. The variety needed to accommodate everything from large and heavy motor components and wheel racks to small parts and tools is astounding.
We start with a full evaluation of your needs then design an industrial shelving system that will maximize space and efficiency with as little downtime to install as possible. That way you get all the variety of industrial shelving, modular drawers and bulk shelving to accommodate the wide variety of parts you store without skipping a beat with your customers.
See more about automotive parts shelving here at Click Here
Aisle saving shelving Solutions
Aisle saver storage solutions are exactly what's needed for slower moving parts or records.
By installing modular aisle saving carriages you can effectively increase your filing and storage capacities while minimizing the loss of essential office floor space. Where overflowing filing and storage exists today, you can have durable and aesthetically pleasing options that maximize the amount stored in a given space.
See more about aisle saving shelving here at: Click Here
Record and archive storage shelving
Record and archive storage shelving, despite advances in digital records holding, is still a necessity for many businesses.
If you are a business that needs to store records boxes or open files you're probably drowning in a sea of paper with a limited amount of space to keep it organized.
That's why we're here.
WSH can show you the most effective way to store your records. For example, if you need to convert an area of your warehouse or designate an area in your office, we will work with you to determine the right type of record and archive shelving to use. Record and archive shelving is industrial steel shelving or bulk shelving sized to match the product that is stored. It can be installed on aisle saving mobile carriages to save space.