Custom Designed Warehouse Mezzanine Floor Systems
Mezzanine work platforms

---
Custom designed warehouse mezzanine floor systems or mezzanine work platforms can expand your storage space, not your building. Therefore you can improve on your existing space by building up. Mezzanine floor systems and work platforms are an easy, effective and affordable solution for adding more space. Also you can add office or manufacturing space to your existing facility.
Western Storage and Handling (WSH) custom designs and builds to fit so you can add one or more mezzanine floors to your existing area. Furthermore our experts meet all building codes and can double or even triple your current space.
---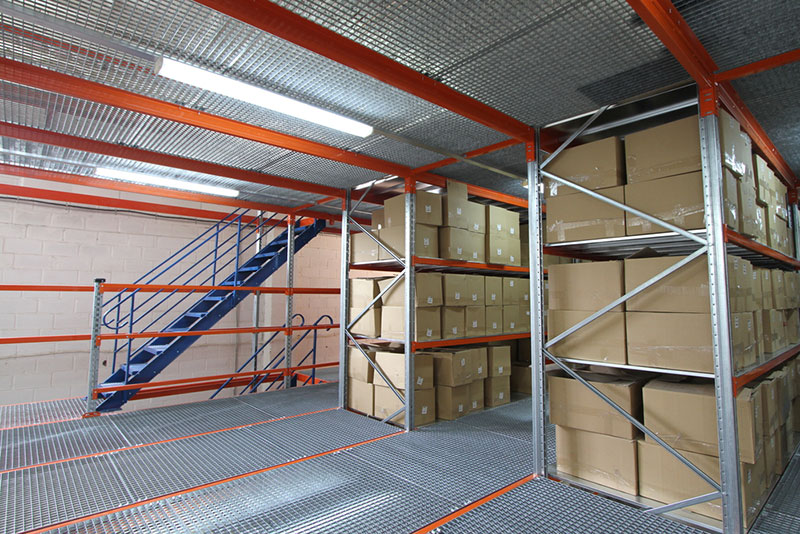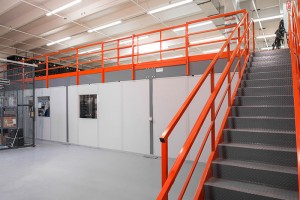 Create office SPACE WITH warehouse MEZZANINE FLOOR SYSTEMS
Double — or even triple — your existing space without expansion with steel mezzanines.
They can also help you to:
Improve inventory management
Offset rising space costs
Eliminate leased space
Qualify for accelerated tax depreciation
Expand to meet growth needs
Save on insurance premiums
Streamline logistics
Reduce building maintenance
Save land acquisition costs
Save energy costs
Customize space to fit your needs
Save on property taxes
Custom designed steel mezzanine floor systems
Expand the use of your existing space using custom designed steel mezzanine floor systems and/or work platforms. WSH uses high quality, state-of-the-art Cubic Designs and Borroughs products. So you can be sure that you're getting the top of the line. Also we have a strong track record of success helping clients throughout the Rocky Mountain Region, which includes Colorado, Wyoming, and Nebraska.
Our experienced, highly trained staff will work closely with you to ensure that:
All building codes are met
The floor surface the mezzanine is mounted to will support the loaded system
Projects will be completed on time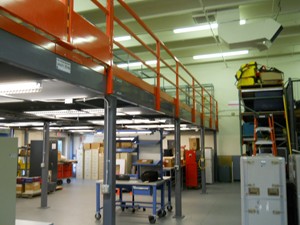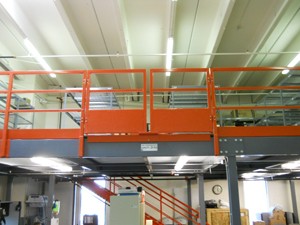 Variety of uses for WAREHOUSE mezzanines
Steel mezzanines can be used for a wide variety of needs including:
Product storage
Manufacturing space
Automotive parts storage
Processing
Work platforms
Office space
Warehouse
Record and archive storage
Overstock storage
Lunchrooms
Types of warehouse mezzanine systems
Steel mezzanine systems also can be customized to fit into just about any area of your facility. Furthermore all mezzanines are engineered and designed to meet IBC, OSHA and other building codes. Depending on your application, they can be:
Freestanding Mezzanines
A freestanding mezzanine is supported by structural columns. These columns allow for maximum use of floor level space or even on a pre-existing or newly-installed mezzanine. Also this mezzanine type allows for a great deal of design flexibility to meet your needs.
Rack or Shelving Supported Mezzanines
Rack or shelving supported mezzanines use standing shelving or racks as the support structure. For example, a deck-over unit could be constructed allowing for an open space on top of easily-accessible storage. Or, for an even more high-density storage need, a second story of shelving can be build on top of lower level storage.
Catwalk Style Mezzanines
Catwalk style mezzanines increase your shelving or rack storage area capacity. More important with them you get increased access to your vertical space. Existing or new shelving uprights provide the support framing. If this is inadequate, cubic columns are used as needed.
Right Fit Every Time
To ensure the right fit, we take the time to discuss your specific needs. We will make recommendations and perform exact measurements at your site. Our expert will come to your facility in Colorado, Wyoming or Nebraska.