Maintain a Safe and Well Organized Work Area
Industrial Wire mesh enclosures not only safeguard your facility, but also your employees when you need to maintain a safe and well organized work area or site.
Secure inventory and machinery in your plant or facility while maintaining high visibility. Western Storage and Handling (WSH) of Denver CO and Colorado Springs CO can help. We offer you top quality consultative services to help you find the best industrial wire mesh enclosures with different types of key systems.
---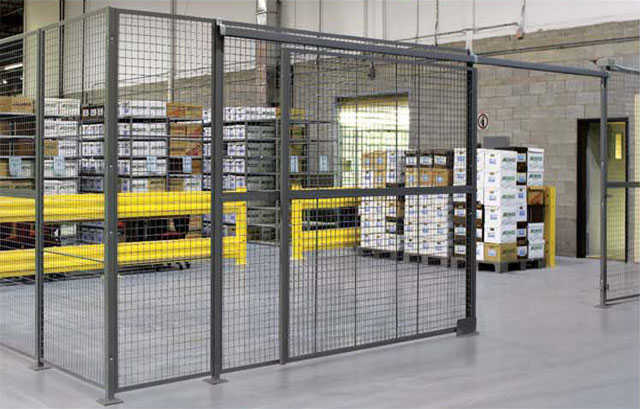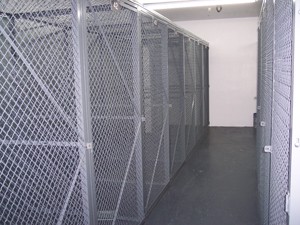 Applications for wire mesh partitions
The applications for wire mesh partitions are many and varied. Not only are they easy to assemble, they can be adapted for almost any use, area or industry including:
Secured outside entrance
Tennant storage lockers
Maintenance areas
Tool room
Stock rooms
Controlled access areas
We use high quality SpaceGuard and Wirecrafters products and provide installation throughout Colorado, Eastern Wyoming and Western Nebraska. SpaceGuard is a leading manufacturer of wire partitions and area guarding products, including wire mesh storage lockers, rack safety panels, aisle guarding and mezzanine rail guarding.
Woven and welded wire enclosures
WSH offers various types of woven and welded wire enclosures to create high-visibility secure areas within your existing facility.
Powder coated in a variety of available colors, this fencing can be used to secure:
• Parts storage, maintenance or sections of pallet racks
• Facility entrances
• Ceilings by paneling them
Wire panels can be stacked to reach over 32 feet in height and entrances of hinged, sliding or vertical-acting gates can be actuated automatically using conventional keys or card readers, they can help to minimize changes to your operation.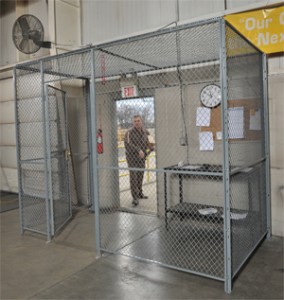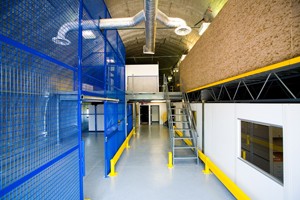 SpaceGuard wire mesh enclosures

SpaceGuard wire mesh enclosures are versatile and high quality giving you the following features and benefits:

Heavy-duty versatile mesh enclosures
Panels stack and bolt between posts for simple, secure installation
Woven and welded wire mesh, expanded metal and solid infill options
They are flexibly designed for easy customization to fit your precise needs:
• Tapered and special-sized panels for window, stairway and machine guarding
• Can accommodate extra large gates, electronic access control and ADA lock options
• Posts available in extended heights and variable or minimal sweep space
SpaceGuard engineers its products for high security and safety applications:
• Military tactical equipment and reserve center storage
• Access-controlled data center cages include security below raised floors
• DEA physical security of Schedule III through V-controlled substances
• U.S. Postal-certified sortation and DHS/TSA screening cages
• Evidence rooms and detention cells
• Robotic and vertical lift enclosures
• Aerosol and combustible substance enclosures
Flexibly designed for customization:
Tapered and special-sized panels for window, stairway and machine guarding
Can accommodate extra large gates, electronic access control and ADA lock options
Posts available in extended heights and variable or minimal sweep space
Engineered for high security/safety applications:
Military tactical equipment and reserve center storage
Access-controlled data center cages include security below raised floors
DEA physical security of Schedule III through V-controlled substances
U.S. Postal-certified sortation and DHS/TSA screening cages
Evidence rooms and detention cells
Robotic and vertical lift enclosures
Aerosol and combustible substance enclosures