Efficient Access to Information
Record and archive storage shelving is a necessary struggle for many businesses. On one hand you need to safely store information without it getting in the way of day-to-day business and on the other hand, you need efficient access to the information when it is needed.

If you've been storing records in 'records boxes', open files or disk storage, you're probably drowning in a sea of paper with a limited amount of space to keep it organized.

That's why we're here.
WSH can help with a wide variety of record and archive storage shelving completely dependent on your specific needs.

For example, if you need to convert an area of your warehouse or designate an area in your office for long-term or short-term document storage, we will work with you to determine the right type of record and archive shelving to use to create the perfect space.

Record and archive shelving is industrial steel shelving or bulk shelving sized to match the product that is stored. It can be installed on aisle saving mobile carriages to save space.

---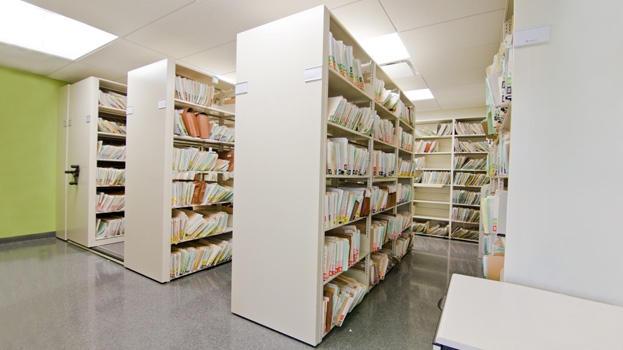 Serving Denver and the entire Rocky Mountain Region
At WSH, we carry a wide variety of industrial shelving to meet the record and archive storage requirements of your operation in Colorado, Wyoming and Nebraska. Let us help you find the most effective solution to increase archive storage and filing capacity.
Why choose Western Storage and Handling?
We do this by leveraging our more than 200 years of material handling equipment experience to help you create more space, solve safety issues and improve productivity. In addition we:
Represent a wide range of the best manufacturers
Have a local inventory of equipment so we can quickly respond to your needs
Have deep knowledge of industry codes and guidelines
Borroughs storage products
Whatever your storage needs, we have the solution that's right for you. Whether your record center is a high cube warehouse, underground vault or a single or high-rise building, we have the products to fit. We use Borroughs Record Master® Steel Shelving, Rivet-Span® Bulk Shelving, Box Edge Plus Shelving®, and Aisle-Saver® mobile shelving to determine the right configuration to match your designated storage area.
Archive storage
If you have archive storage boxes to store, Borroughs Rivet-Span shelving is usually recommended. That's because it is economical, strong, flexible and easy to assemble. It goes together without nuts, clips or bolts and stores almost anything.
Aisle-saving mobile shelving
If you don't need regular access to your files, consider Borroughs Aisle-Saver mobile shelving. This space and cost-saving storage solution can increase storage and filing capacity by 50 percent. But that's not all. It's easy to use, aesthetically pleasing and customizable to your specific filing and storage needs.
Storage of open files
For storage of open files, Borroughs Box Edge Plus® Shelving and Record Master® shelving are viable options. In addition, Box Edge Plus is ideal for storing large, heavy or bulky parts.
Record and archive storage
For record and archive storage, Borroughs Record Holders maximize storage density and minimize storage expenses. And they can be used in single-shelving installations, multi-level shelving or high rises, along with a variety of other configurations. In addition:
Shelves come in multiple sizes to store a wide array of archive boxes
The number of shelves and shelf spaces can be customized to match your needs and objectives
From the Box Edge Plus® Shelving with high strength beaded posts to the incredibly strong and thrifty Rivet-Span® systems, Borroughs Record Holders have a proven track record of value and durability in thousands of installations worldwide.