Pallet racks are an essential part of many warehouse storage operations, but did you know pallet rack accessories can help your system perform better? In this guide, we'll cover a wide range of accessories that help make the most of a pallet rack system while increasing efficiency and safety. 
Wire Decking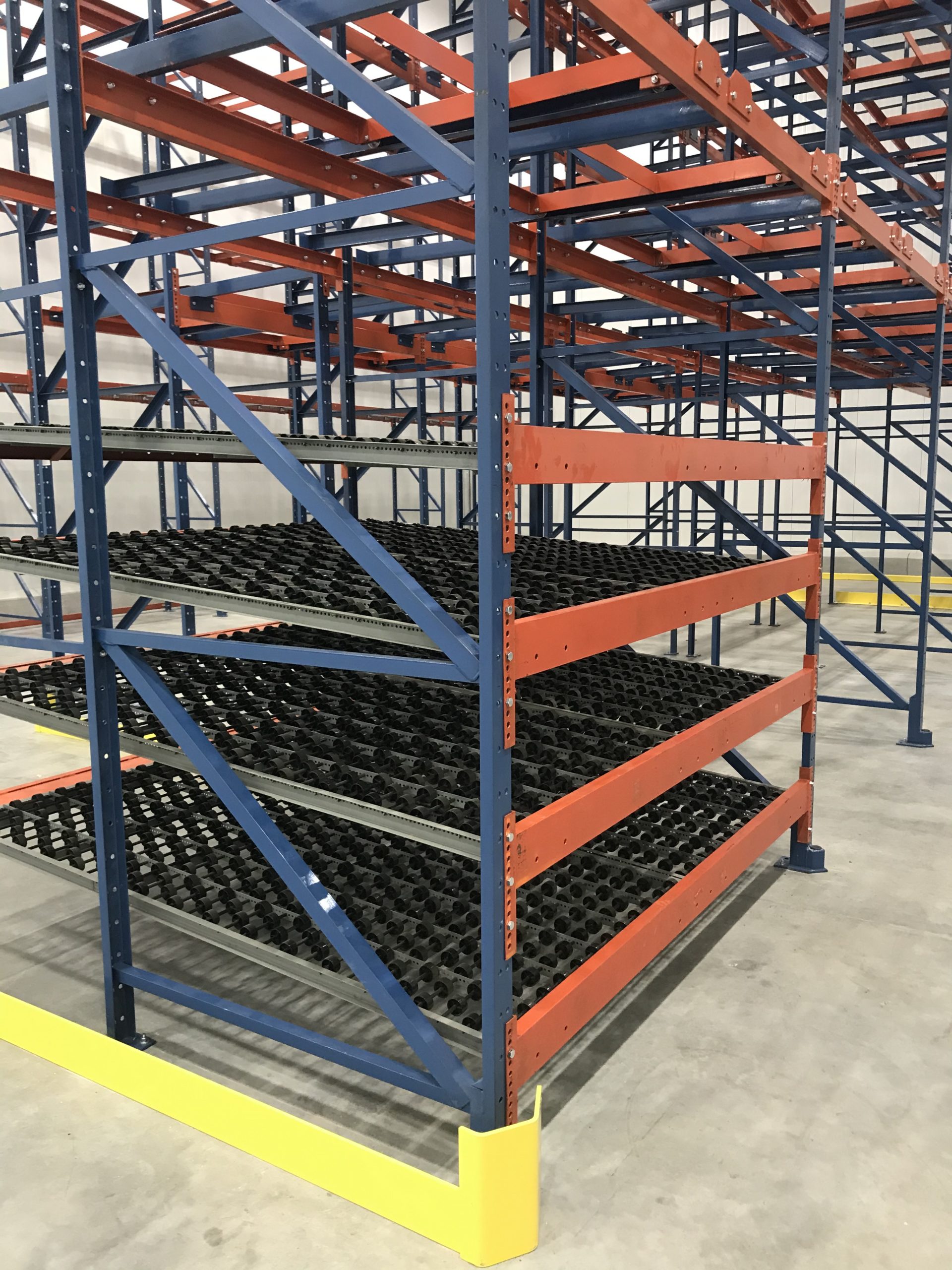 Wire decks are woven wire shelving components that hold product pallets. They are a great method for preventing broken pallets and products from falling through rack systems. It's the most popular pallet rack accessory and the kind one would find on racks at home improvement retail stores. It can be a liability not to use wire decking – in fact, some insurance policies require wire decking as a safety protocol, so it's important to have an understanding of your policy before you invest in a pallet rack system. Pallet decking comes in a variety of types including solid steel and corrugated steel and can be used on a variety of systems including gravity racks and flow racks.
Pallet Rack Cross Bars
These are metal beams that hold pallets and are used in lieu of wire decks. Crossbars can also support a number of different pallet decking options including hat-shaped decking, tubing, channel, bolting angle for structural racks, and lapped designs.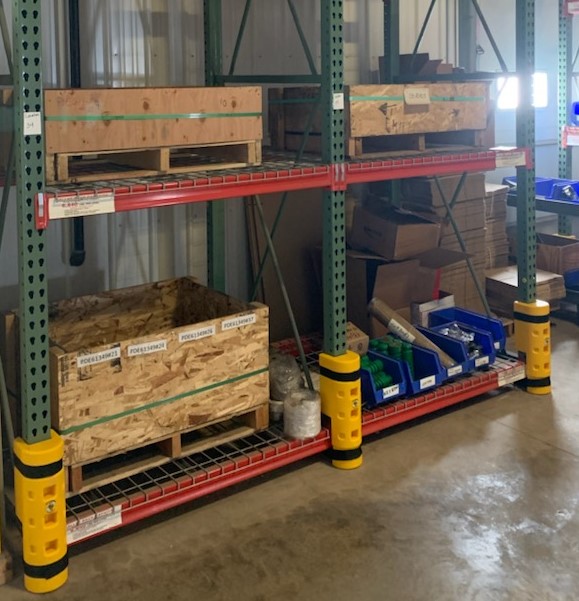 End of Row Guards and Column Protectors
End-of-row guards are horizontal steel reinforcements that lie at the bottom of the end of a row of pallet rack and work to protect vertical uprights from potential forklift impacts. They are bolted to the ground, creating an immovable safety element that many warehouses depend on to protect their racks.
Column protectors offer protection to the front of individual uprights and bays of pallet rack. They tend to be made from high-density polyethylene plastic and are easy to remove and relocate. 
Pallet Stops 
Pallet stops are essential for securing pallets by making sure they don't go too far beyond the edge of the rack. In addition to making sure pallets or products don't get pushed off racks, they also keep pallets aligned and prevent flue spaces from getting overcrowded.
Pallet Rack Netting and Wire Mesh Back Stops 
Pallet rack safety nets are anchored behind racks and prevent products from falling. They tend to be floor-to-ceiling in length and made of heavy-duty nylon or polypropylene. Wire mesh backstops serve the same purpose but are made of steel, creating even stronger protection for products and personnel.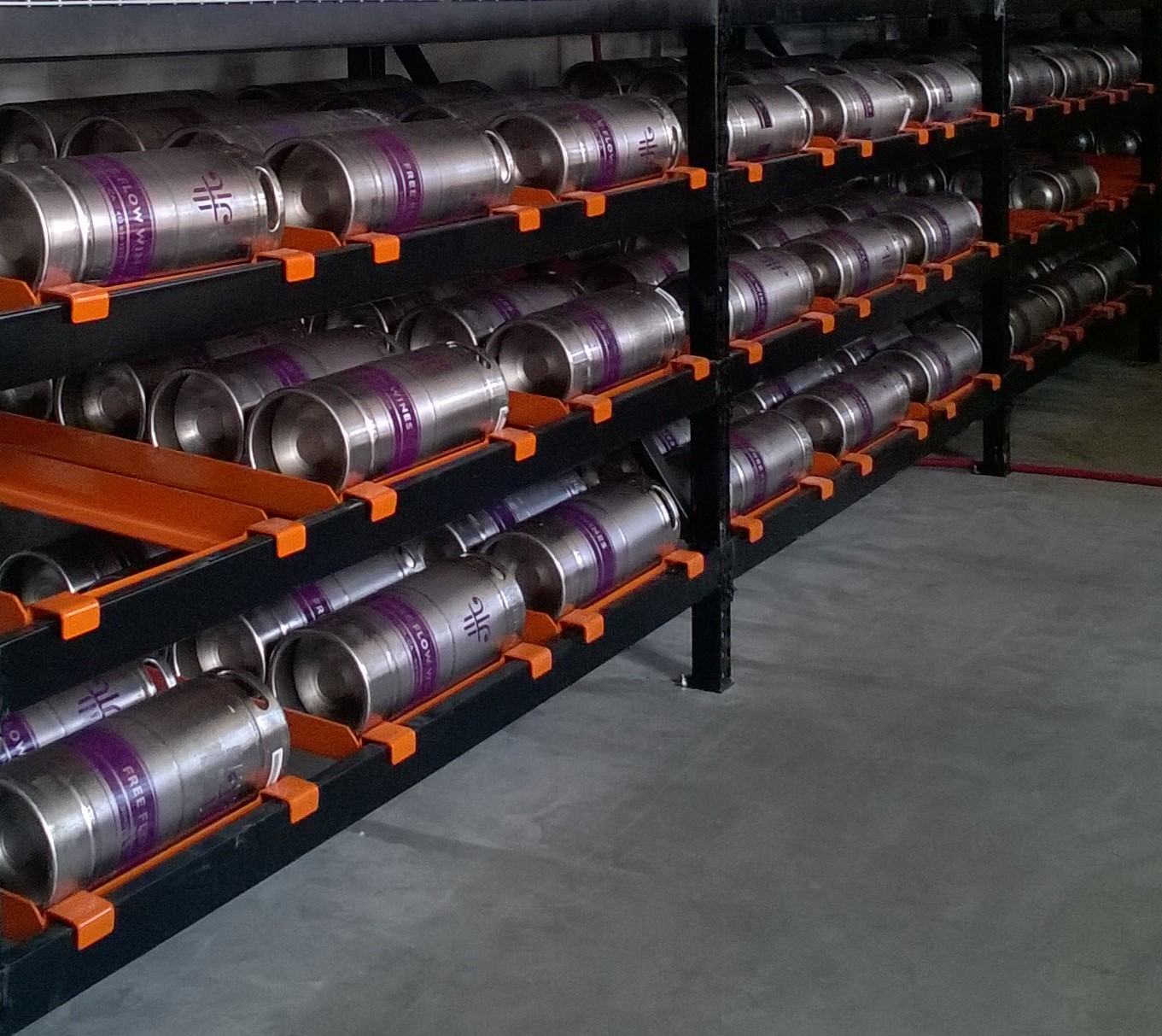 Drum and Keg Cradle Systems
These cradles stabilize drums on pallet racks, creating a safe way to store kegs and other liquids on existing pallet rack systems.
Skid Support Systems 
These accessories act as cradles to secure wire baskets, steel baskets, and other wire containers onto your pallet rack system – a must for safely storing these types of containers.
Partition Systems 
Partition systems create barriers along rows to keep products separate and organized. This increases efficiency for product pickers and maximizes space between each row. Partition systems also work great for separated products that don't need refrigeration from products that do.

Gravity Flow Rack Accessories 
They are great for storing high volumes of inventory, using gravity to assist in moving products from back to front. They are more ergonomic than other systems, and they create order picking efficiency. These are commonly made of stainless steel drum rollers or plastic wheel conveyors. 
Read our guide on choosing the right pallet rack system for your business.
Think you need pallet racks accessories? Give us a call and speak to one of our experts!
We'll tailor a system specifically for your needs and walk you through a wide variety of pallet rack accessories that can help you save money and increase overall efficiency. Receive a free consultation by giving us a call at 877-669-6602. We look forward to speaking with you!
Serving Colorado, Eastern Wyoming and Western Nebraska.
We have both Denver and Colorado Springs locations! 
DENVER OFFICE
1630 West Evans Ave, unit L
Denver, Colorado 80110
Phone: 303-937-8376
COLORADO SPRINGS OFFICE
1880 Office Club Pointe
Colorado Springs, CO 80920
Phone: 719-272-8253