The Client
Warehouses come in all shapes and sizes. From giant multi-plex facilities to tiny back rooms. But one thing all good warehouses have in common is an excellent organization built to maximize space. WSH's fabrication department can custom make shelving units to fit inside vans, trucks, or in your facility. Call us for more info at 303-937-8376 Denver, CO.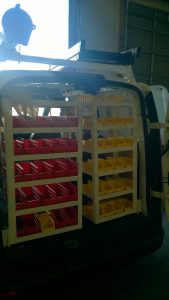 Enter Bob Willis.
Bob is a plumber out of Denver, Colorado who takes his warehouse with him in the form of the step van that houses his equipment. A plumber's van is one part transportation, one part office, and one hundred parts warehouse.
In the plumbing world – as well as that of HVAC contractors, builders, electricians, and really, any other kind of skilled trade — the ability to have more tools and parts on hand can make all the difference in the success of day-to-day operations.
Unlike some other vans or trucks that have a huge capacity, Bob's step van is of modest size. To maximize his space, he did what folks all over Colorado, Eastern Wyoming, and Western Nebraska have been doing for decades: he called Western Storage and Handling (WSH).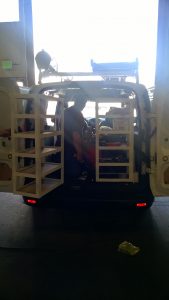 The Challenge
Bob approached WSH with the challenge of how to organize his service van. There were two key issues he needed to be addressed:
• Quick access to well-organized parts
• Easy access to the middle of the van
And both issues needed to happen without having to climb into the van every time he needed a tool or part.
The Solution
With decades of experience in material handling, the experts at WSH lost no time in designing the best solution for Bob's step van.
Bob specifically wanted shelves on the inside of the large back doors that could hold a large variety of parts and also pivot out of the way to open the van body.
WSH's fabrication department worked closely with Bob to custom make shelving units to his specifications. Two pivoting racks with six shelves each are immediately available by opening the doors at the back of the van. These shelves then pivot open allowing Bob access to the larger parts and tools he stores in the body of his van.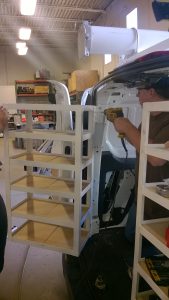 The Result
Bob is extremely satisfied with the end results of his custom plumbing van. He now has quick access to all the parts and tools he can fit on his 12, well-organized shelves without having to climb in and out of his van to find them.
Find Out More
Contact Harry Neumann at Western Storage and Handling for more information about how we can solve your storage and shelving challenges.