As Real-Time Logic, Inc. business was growing they suddenly found they had an issue its lack of space and cramped storage rooms. Western Storage and Handling came to their aid and provided new storage facilities, with Lista Double Wide Modular Drawer Cabinets, drawers, and catwalk systems for easy and efficient storage.
The Client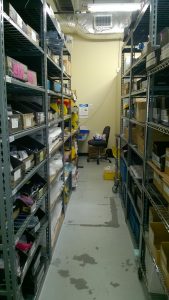 Real-Time Logic, Inc. (RT Logic) is the leading supplier of innovative signal processing systems for defense and aerospace platforms including satellites and spacecraft.
Headquartered in Colorado Springs, Colorado since its founding in 1997, RT Logic became the market leader in satellite test and ground systems in less than 10 years due to a distinct combination of talented employees, innovative products, project focus, and customer support.
After more than 20 years, RT Logic is proud to be trusted by the defense and aerospace communities to solve their missions' most difficult test and communications problems.
The Challenge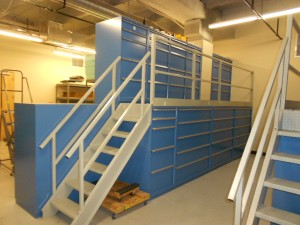 At one of their Colorado Springs locations, RT Logic had a growing storage issue.
With only two small storerooms at their disposal, they had run out of both room and efficient organizational solutions for the raw materials used in the engineering of their products.
For years, all materials were stored on a mix of cramped, narrow shelving in open boxes or plastic bins, organized with inconsistent labels.
With shelves reaching above average human height and positioned as closely as possible, the storage rooms were cramped and dark; materials sat in open bins exposed to dust.
In short, RT Logic's storage "solutions" we're at capacity and no longer easy to access.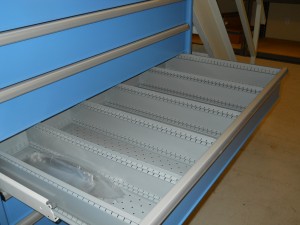 The Solution
Western Storage and Handling (WSH) – the leading warehousing expert in Colorado, Eastern Wyoming, and Western Nebraska – is known for its ability to improve the efficiency and safety of a wide variety of storage facilities. This wasn't the first time a WSH client came to them with this kind of situation.
WSH started by looking up. RT Logic had maxed out the floor space in their two small storerooms, but they still had vertical space available.
Double stacked modular drawer and cabinets with a catwalk system to access the top levels were the perfect solution.
WSH's experts audited the variety of materials being stored and configured Lista Double Wide Modular Drawer Cabinets to fit.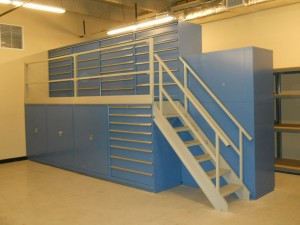 The Result
Now organized, RT Logic's new storage facilities are neat, tidy, and immaculately organized. The new drawers and catwalk system allow for all products to be easily stored and accessed as well as preventing them from collecting dust. Fit to precisely meet local and national fire codes, the Lista high-density storage cabinets provide better than 50 percent more storage space compared to the previous system.
The overall effect is a visually pleasing, well-organized pair of storerooms. RT Logic is extremely pleased with the end results.
Find Out More
Contact Harry Neumann at Western Storage and Handling for more information about how we can solve your storage and shelving challenges.