The Client
Quality Custom Distribution (QCD) is a leader in quick-service restaurant logistics. Providing individualized distribution services to iconic customers throughout the United States, QCD manages over 17,000 deliveries a week from 18 distribution centers strategically placed throughout the country. Headquartered in California, QCD also has an established center of business for the Rocky Mountain region in Aurora, Colorado.
QCD is known for quality service and customer satisfaction. They take each customer's distinct needs and turn them into unique custom solutions. They understand the value of listening, evaluating pain points, and providing the best possible results. When the Aurora location needed to consolidate its operations, they looked to Western Storage and Handling (WSH) to do the same.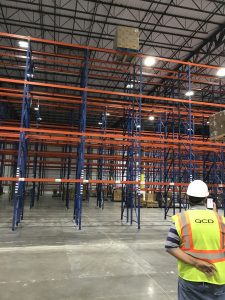 The Challenge
QCD's customers are heavy hitters: Starbucks, Noodles and Company, Chipotle, and Boston Market just to name a few. They wanted to consolidate their operations into one facility while still having the capacity to service each unique customer to their strict requirements. The new facility layout would not only need to meet this need but to allow space for future growth.
The Solution
Western Storage and Handling (WSH) has worked with QCD in the past and was able to easily come in, access the details, and offer a solution. With decades of experience in material handling all over Colorado, Eastern Wyoming, and Western Nebraska, WSH understands warehouse and logistics space better than anyone, and their experts knew exactly what to do.
By listening to QCD's exact needs, WSH designed the racking system in the new distribution center to maximize space for efficiency. Using Frazier Structural Pallet rack, ITC wire decking, and Sackett charger stands, WSH made the available space accommodate each of QCD's clients' specific needs allowing QCD to quickly and easily access goods and products for order fulfillment that satisfies each set of requirements without impeding on each other. The space is also designed to evolve in the future to meet business growth from either existing client demands or new customers.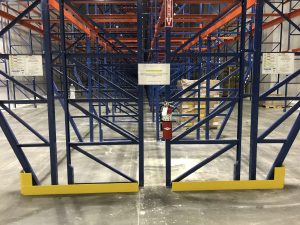 In addition to the new space layout, WSH included Cubic Designs Rack Protection and Sentury Safety Products. There's also rack protection with a two-year abuse warranty to cover damage that could inadvertently occur.
Finally, for the benefit of QCD's employees, new men's and women's locker rooms were fitted with Penco Lockers.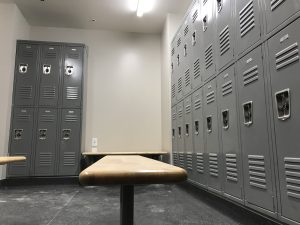 The Result
Now up and running in their new facility, QCD is very happy with the results.
Find Out More
Contact Harry Neumann at Western Storage and Handling or call 303-937-8376 for more information about how we can solve your storage and shelving challenges.