Western Storage Handling installed a Vertical Reciprocating Conveyor (VRC) for Labonte's Smokehouse in Keystone, Colorado.
The Client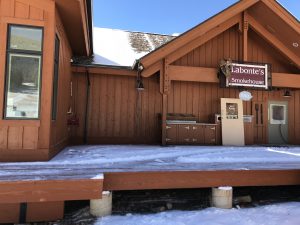 On the mountains of Colorado's Keystone's Resort, between Dercum and North Peak, is the best BBQ joint you can ski to. Labonte's Smokehouse BBQ has been a popular feature for years serving smoked meats and barbeque on their famous snow beach where families can soak up the Colorado sunshine. In the summer of 2017 a large renovation project broke ground to add a new, 190-seat indoor facility for the on-mountain dining venue.
The Challenge
Building at 10,000 feet is a challenge in and of itself. For this job, there were many constraints and access issues involved with the project in its entirety. The new construction included a large storage area, one level lower than the rest of the restaurant.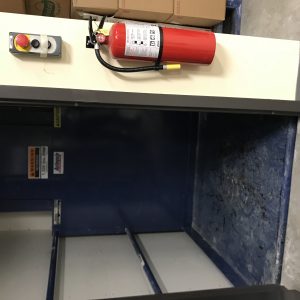 Labonte's needed a way to move all the restaurant and bar supplies to the basement-level storage area where the coolers, keg room and all dry storage were located. And, due to the geographic realities of the location, the installation would have to happen three months prior to the construction of the building around it.
The Solution
Never one to shy away from a challenge, Western Storage and Handling knew exactly what to do. With decades of experience in material handling all over Colorado, Eastern Wyoming and Western Nebraska, WSH understands warehouse and logistics space better than anyone.
Understanding the constraints of accessibility, time and available space, WSH had a Vertical Reciprocating Conveyor (VRC) with a 48-inch by 48-inch platform, 120-inch lift and a 1,500-pound capacity craned into place once the foundation was ready in July of 2017. The basement was then built around it, creating a shaft for the VRC's use.
Three months later, in November of 2017, WSH returned to install the power unit, interlocks and limit switches to complete the project with everything lining up perfectly.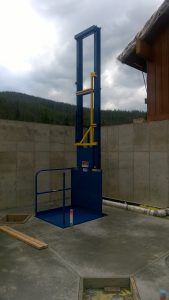 The Result
Labonte's Smokehouse BBQ celebrated it's Grand Re-Opening just a month later, on December 15, 2017 to great success. Today it's arguable the best place on-mountain for a midday meal.
Find Out More
Contact Harry Neumann at Western Storage and Handling  or call  303-937-8376 for more information about how we can solve your storage and shelving challenges.