Western Storage and Handling designed a simple conversion of existing rack bays into carton flow shelves for Quality Custom Distribution.
The Client
Existing client, Quality Custom Distribution (QCD), are leaders in quick service restaurant logistics and are headquartered in California with a business center for the Rocky Mountain region in Aurora, Colorado.   Providing individualized distribution services to some of the largest brands throughout the United States, QCD manages over 17,000 deliveries a week from 18 distribution centers strategically placed throughout the country.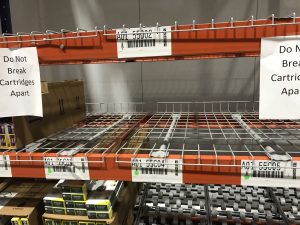 QCD is known for quality service and customer satisfaction. They take each distinct need and turn them into unique custom solutions. They understand the value of listening, evaluating pain points, and providing the best possible results. Having worked with Western Storage and Handling (WSH) in the past – most recently on an operations consolidation project – QCD knew just who to call when they needed to strategically expand a racking system.
The Challenge
QCD does a lot of heavy lifting for big-name customers: Starbucks, Noodles and Company, Chipotle, and Boston Market just to name a few. They have a reputation to maintain and are always looking for ways to tweak their facilities to improve efficiency. For this project, they needed to convert a small rack space into something that could manage a much larger volume of soft drink cartridge use.
The Solution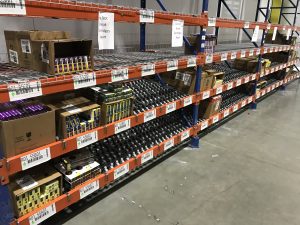 WSH has been around the block with QCD more than once and was able to easily come in, access the details, and offer a solution. With decades of experience in material handling all over Colorado, Eastern Wyoming, and Western Nebraska, WSH understands warehouse and logistics space better than anyone, and their experts knew exactly what to do.
Understanding QCD's exact needs, WSH designed a simple conversion of existing rack bays into carton flow shelves. They did this by installing three new shelves per bay and increasing the overall height another 12 to 54 inches.
Before this project, QCD has two carton flow shelves. Without making any changes to their floorplan, WSH was able to give them 18 more – all within ergonomic tolerances for the employees – greatly increasing the picking and order-filling capacity in this warehouse.
The Result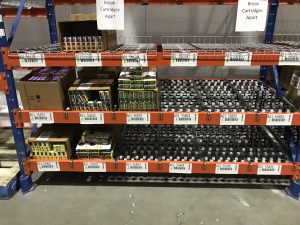 QCD is very happy with the installation and is considering expanding this to more bays within the Aurora facility.
Find Out More
Contact Harry Neumann at Western Storage and Handling  or call  303-937-8376 for more information about how we can solve your storage and shelving challenges.