Western Storage and Handling installation LEWCO slider bed conveyors for XYBIX Systems of Littleton, CO. 
The Client
Founded in 1991, Xybix Systems, Inc. has earned its reputation as the innovative leader in manufacturing ergonomic consoles, workstations, and furniture for mission-critical environments. This has meant developing extensive expertise in design and ergonomics to create state-of-the-art consoles aligning form and functionality for better health, performance, and productivity.
A family business, Xybix is focused on details – from data/com points to the physical well-being of their users – and has combined their reputations for innovation and stellar customer service to become the watermark for their industry. When they needed changes to their production line they looked to Western Storage and Handling (WSH) for the same.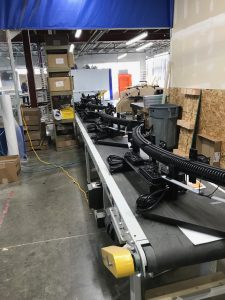 The Challenge
Xybix had a timing challenge. Their ergonomic desktops need a specific amount of time to cure after processing through the laminating machine before the powered tabletop mechanisms are installed. They needed a way to make this important step in their manufacturing process both slow down to allow for curing and speed up to keep the overall assembly process moving.
The Solution
WSH has worked with Xybix before and was able to sit down with their leadership to talk through the details of their needs. With decades of experience in material handling all over Colorado, Eastern Wyoming, and Western Nebraska, WSH understands how to dig deep into a problem to give it definitive goal parameters and deliver exactly what their clients need – even if they don't know what that is themselves.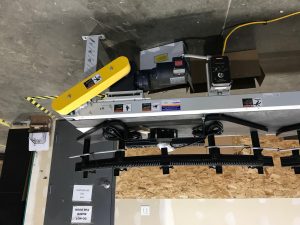 Based on Xybix's manufacturing process, WSH designed an assembly in two areas that used LEWCO slider bed conveyors with variable speed drives to move the tabletops at the perfect speed for curing. A seamless belt connection was included to prevent scratching the tabletops – something absolutely necessary for the production of high-end ergonomic workstations. LEWCO conveyors also come with standard guarding and warning decals to ensure employee safety during operations.
Additionally, WSH worked with Xybix's internal electrical technicians so that they could handle the installation and electrical hook-up themselves to save on their budget.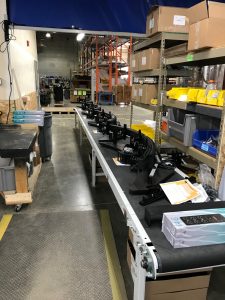 The Result
The new, variable speed conveyor system is a huge improvement over their old, clipper lacing setup. Now up and running, Xybix's goals have been met and they are very happy.
Find Out More
Contact Harry Neumann at Western Storage and Handling for more information about how we can solve your storage and shelving challenges. Call us for your specific material handling equipment needs. 303-937-8376