Western Storage and Handling designed and installed a prefabricated modular office structure for Piedmont Plastics of Littleton, Colorado.
The Client
Piedmont Plastics is the premier North American distributor of plastic sheet, rod, tube, and film products. In business since 1968, they have had half a century of experience perfecting their comprehensive team approach. With more than 40 branch distribution centers around the US and Canada employing over 600 people, Piedmont Plastics is quickly growing not only in size but in reputation. They are known for being the most knowledgeable in their business with a national support network to help their clients achieve their goals.
When their Littleton, Colorado location needed a space solution, they called Western Storage and Handling (WSH) for help.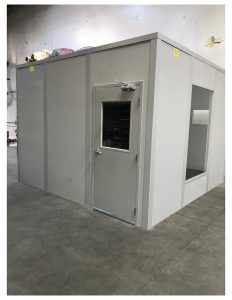 The Challenge
In an effort to consolidate their local operations, Piedmont Plastics wanted to relocate the regional Fabrication Department into the same facility as their existing fabrication shop. To do so they needed to carve out space in a large warehouse and make room for a working office with storage for the supervisor and staff.
To get the job done right, WSH would have to not only create the solution but get it done in a tight time budget and meet all local building codes.
The Solution
With decades of experience in warehousing and material handling all over Colorado, Eastern Wyoming, and Western Nebraska, WSH understands space better than anyone, and their experts knew exactly what to do.
The project began by WSH meeting with the client at their facility, listening to their needs, and talking through the logistics. Once the best spot in the fabrication warehouse was located, the Piedmont Plastics staff cleared the area so WSH could have room to work.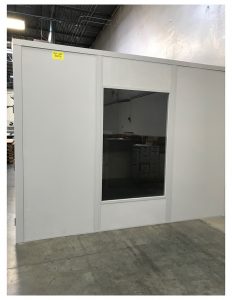 To best meet the timeline and the local building codes, WSH designed and installed a prefabricated modular office structure sized to perfectly fit the supervisor, staff, and their equipment. Pre-engineered for fire and sound, WSH had no trouble acquiring the proper building permits, installing the modular office, and handing over a turnkey solution within Piedmont Plastic's timeframe.
The Result
This was the first time Piedmont Plastics has worked with WSH and they are very pleased with the results.
Find Out More
Contact Harry Neumann at Western Storage and Handling or call 303-937-8376 for more information about how we can solve your storage and shelving challenges.