The Client
AutoNation, now the largest automotive retailer in America, was the first retailer to sell over 10 million vehicles. Constantly innovating and striving to change the way people buy and service their rides, they've grown dramatically in popularity over the last few years. With over 300 locations and 26,000 employees, AutoNation strives to connect customers with quality automobiles, coast to coast, all while supporting breast cancer research. When their location in Centennial, Colorado needed help in their parts and service department, they called Western Storage and Handling (WSH) to expand their warehouse facility and install Borrough's Heavy Duty Shelving and Drawers.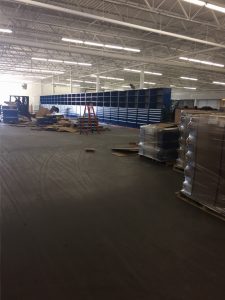 The Challenge
Although in the middle of planning a new building for 2019, AutoNation in Centennial needed help now. Their temporary facility was not equipped with enough shelf space to fit all the parts of six different auto manufacturers that they use to service their customers. To continue to offer the best service available, they couldn't wait until 2019 for their new building, but they also didn't want to be wasteful.
Therefore, the new shelving solutions had to be something that could be reused in the future facility.
The Solution
For decades WSH has been improving the efficiency and safety of warehouses all over Colorado, Eastern Wyoming, and Western Nebraska with particular expertise in auto parts and service organization and understood just how to approach this challenge.
Drawing on their experience, WSH designed a pallet rack system with pick aisles using Speed track products mixed with Borrough's HD small parts shelving and drawers. Not only did they process all the permits with both the city and the fire department, but WSH also had to meet a very tight timeline. This was accomplished by utilizing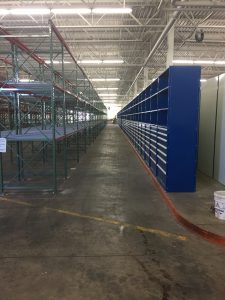 materials already in stock and working with manufacturers on quick shipment of additional equipment as they were finished.
Coordinating installation around other tenant projects and working through the weekends, no work days were lost and the project finished on time.
The Result
AutoNation is thrilled with the results – not only did WSH manage the permits and meet their timeline, but the new shelving is ergonomic and has fully maximized the number of parts they can store.
Find Out More
Contact Harry Neumann at Western Storage and Handling or call 303-937-8376 for more information about how we can solve your storage and shelving challenges.