Mile Hi Foods came to Western Storage and Handling for installation of Warehouse Safety Equipment and Bollard Guardrail System to maximize their floor space while accommodating products.
The Client
Mile Hi Foods, a fourth-generation, family-owned food warehouse and delivery company in Denver, Colorado has been a client of Western Storage and Handling (WSH) in the past.
For over 60 years, Mile Hi Foods has supplied food and paper products to the McDonald's locations in the Rocky Mountain region – that's over 360 restaurants today. When McDonald's opened its first location in Denver in 1956, Mile Hi was there and has been the distributor of choice ever since.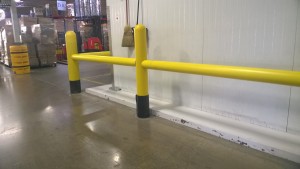 The Challenge
At Mile Hi Foods' facility, there are a lot of moving parts. With dry goods, perishables, frozen products, and all the workers needed to keep things moving in and out around the clock, their facility works to a very high standard of efficiency.
With an ever-increasing amount of perishable food to manage, Mile Hi has installed state-of-the-art modular coolers and freezers that maximize their floor space while accommodating products.
The wall panels were in danger of damage from forklift and pallet trucks from all the internal traffic happening around them. This was a serious concern because if a warehouse vehicle damaged a cooler or freezer they might not be able to properly store food which could cause spoilage and therefore threatens a failed safety inspection.
In addition to deterring damage, Mile Hi Foods wanted to keep the base of the freezer and cooler walls free of debris which could prevent a clear line of sight to any unrealized damage.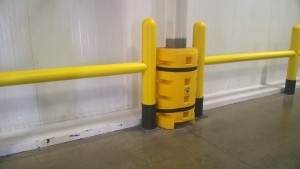 The Solution
For decades WSH has been improving the efficiency and safety of warehouses all over Colorado, Eastern Wyoming, and Western Nebraska. This wasn't the first time a client needed this type of thinking.
To protect the walls, WSH started by installing bollards – short, vertical posts – along the edge of the surrounding curbs. Each bollard was then connected with a single, horizontal guardrail sleeved in a bright yellow polyethylene plastic that is both highly visible and easily replaced if damaged.
The entire system was manufactured by Ideal Shield, the maker of the Original Bumper Post Sleeve, the strongest guardrail on the market, located in Southwest Detroit.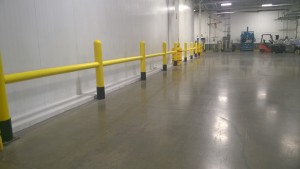 The Result
Mile Hi Foods was very happy with the results. The new system is highly visible and will withstand a direct hit from a loaded forklift truck. The area around the modular coolers and freezers is now debris-free and clearly marked making it both safer for the paneled walls and Mile Hi Food's workers. The new system has also passed all safety inspections from independent agencies.
Find Out More
Contact Harry Neumann at Western Storage and Handling for more information about how we can solve your storage and shelving challenges.