The Kitchen Network came to Western Storage and Handling for a storage solution and installation of an Ideal Shield's Modular Guardrail System for Warehouse Safety.
The Client
The Kitchen Network is Denver's longest-running shared kitchen. Over 150 specialty food businesses – including 45 area food trucks – rely on their services to be successful.
Started in 2004 by entrepreneurs Dennis and Elaine McFerrin and motivated by a deep passion to help emerging businesses grow, the Kitchen Network was built from scratch. They understand the struggles that many new businesses run into during the early stages so they go above and beyond to serve and support their clients. "We understand that for the Kitchen Network to be successful, all of our clients must be successful, too," said the McFerrin's from their website.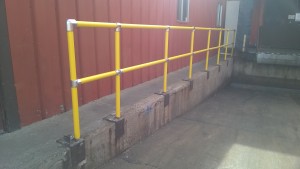 In addition to their 11 private commercial kitchens, 2,500 square feet of commissary and 12,000-square foot facility, the Kitchen Network provides guidance through compliance and certification, food truck storage, business development resources and 24/7 access.
The Challenge
The Kitchen Network's facility is a serious complex. In addition to the cooking, food prep and food storage areas, there are dozens of food trucks moving in and around every day, each one with its own staff in addition to the Kitchen Network's staff.
Near the loading dock was a dangerous situation. A vertical drop in the design meant that people walking along the side of the dock could easily fall into the dock pit. As a common point of access to the facility is through the loading dock entrance, this needed to be addressed.
The Solution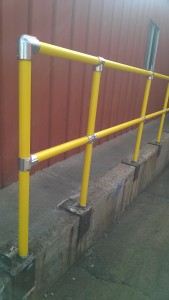 Western Storage and Handling (WSH) was asked to come in, access the details and offer a solution. With decades of experience in material handling all over Colorado, Eastern Wyoming and Western Nebraska safety is always the number one concern. The experts at WSH lost no time in advising the best solution.
Ideal Shield's modular railing system was a perfect fit. Manufactured in Southwest Detroit, Ideal Shield is known for their Original Bumper Post Sleeve, the strongest guardrail on the market. No one knows guardrail safety like they do.
Modular, so it could be installed as a perfect fit, and coated in bright yellow polyethylene plastic that is both highly visible and easily replaced if damaged, the system was attached by aluminum alloy connectors to large mounting plates anchored right up to the edge of the dock.
The Result
The Kitchen Network is extremely please with the stability and aesthetics of the final guardrail. Strong, sturdy and visible, the Ideal Shield modular railing system not only prevents inadvertent falling into the dock pit, it brings visual attention to the area so nearby foot traffic can avoid the danger completely.
Fine Out More
Contact Harry Neumann at Western Storage and Handling for more information about how we can solve your storage and shelving challenges.