Western Storage and Handling carries and installs Vertical Freight Lift or VRC (vertical reciprocating conveyor) by Autoquip. Call us at 877-669-6602
The Client

AutoNation Chrysler Jeep West (Autonation) in Golden, Colorado is known for its commitment to customer service. Their entire business is centered on providing the absolute best experience when buying a new or used car or when using their top-notch service center.
The Challenge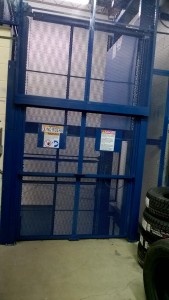 For years, Autonation's facility included a three-story storage area to house their large inventory of parts and tires. Although the space itself was well appointed and utilized, transporting parts from the different levels to the service center was a challenge. To accomplish this, parts were moved vertically using a hoist.
AutoNation wanted a system that would be safer, easier, and more efficient for employees to move parts to and from all three levels of their storage area. The challenge was to find the right solution for their facility and install it without interrupting their day-to-day business.
The Solution
To meet the needs of a multi-level parts storage facility, the experts at Western Storage and Handling (WSH) recommended a freight lift or VRC (vertical reciprocating conveyor) by Autoquip. VRCs are excellent for moving high-capacity freight between floors and Autoquip's lifts provide a safe, economical and reliable solution to exactly the kind of challenges Autonation was dealing with.
Before the installation began, WSH had to confirm the foundation for the lift could carry the weight of the VRC and the goods it would transport. To do this, WSH x-rayed the cement slab in search of any unseen issues that could compromise the structure.
Finding none, the Autoquip VRC was installed taking up as small a footprint as possible. This was important to maximizing Autonation's floorplan space and accommodating their large inventory.
The Result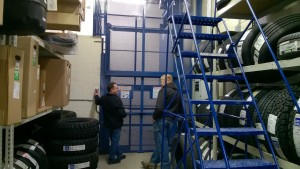 AutoNation Chrysler Jeep West is extremely happy with their new VRC freight lift and the job Western Storage and Handling did with the installation. The new lift is more efficient and safer, and the installation was clean and smooth.
Find Out More
Contact Harry Neumann at Western Storage and Handling for more information about how we can solve your storage and shelving challenges.