SpaceRAC Tear Drop pallet rack system was used in Central Garden & Pet distribution center in Colorado and installed by Western Storage and Handling.
The Client
Central Garden & Pet Company is a leading innovator, marketer, and producer of quality lawn, garden and pet supplies. Founded in 1980 as a distribution company, Central Garden & Pet has grown over the decades to become consistently recognized for more than distribution, but as a top source of products in these markets.
The Challenge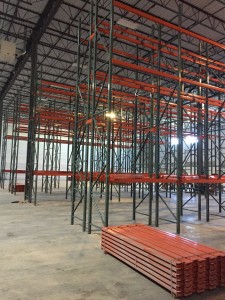 Although headquartered in California, Central Garden & Pet has had a distribution center in Colorado and recently needed assistance with pallet racking in a new facility.
New locations can mean a fresh slate in regards to an overall organization but the act of moving a full-time distribution center is a huge undertaking. The challenges with this project were twofold:
1) to design the perfect system to meet Central Garden & Pet's many needs and
2) a very tight timeline and quick turnaround to meet all the demands of the move.
This also included obtaining the proper permits, coordinating material delivery and installation.
The Solution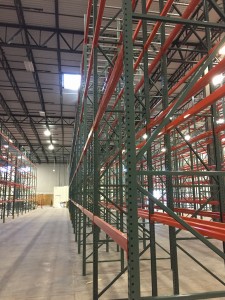 To meet the heavy distribution demands faced by Central Garden & Pet, Western Storage and Handling (WSH) leveraged the experience of its staff to create the perfect racking installation. Understanding the unique needs for this business, WSH choose SpaceRAK's Tear Drop pallet racking system.
Ten rows with 16 bays of back-to-back selective pallet racks using a minimum of 11-foot aisles with one tunnel bay per row and rack protection at the end of aisles and tunnel bays. This racking required very specific permitting as well as fire engineer analysis – all managed by the WSH team.
As for the active construction site, WSH has worked successfully in similar conditions many times before. To best coordinate with all the different companies and contractors involved in the build, WSH prepared and delivered all the necessary materials and permits ahead of time at the new location.
The Result
Central Garden & Pet were beyond excited about the outcome. The racking system installation and permitting were done on time, as planned, and with no surprises.
Find Out More
Contact Harry Neumann at Western Storage and Handling for more information about how we can solve your storage and shelving challenges.