The Client
Retail giant, Ross Dress for Less (Ross), can be found in locations over much of the US. The county's largest off-price retailer has been in business since 1982, dominating the bargain category and offering their loyal customers a constant stream of high-quality department and specialty store brands. Western Storage installed a Tri-Ark 30-foot Roof Access ladder for Ross Dress for Less located in Denver Colorado. Ross needed a new ladder to access HVAC.
Ross brings new merchandise to their customers practically every day, in all their over 1,400 locations. Logistically speaking, that means a lot of semi-trucks backing up near the roof access ladder. When a Denver location had some damage to their ladder in their loading dock area, they called Western Storage and Handling (WSH) to figure out how to fix it.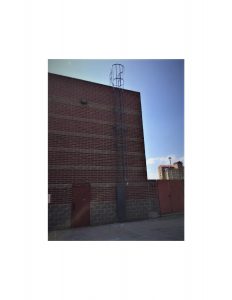 The Challenge
A 30-foot, caged, roof access ladder had been dented too many times by trucks trying to back into the loading dock. Therefore, the old ladder was no longer usable, it needed to be safely removed and a new one installed. This Ross location had relied on WSH for years and didn't hesitate to call for help. Sourcing the ladder, transporting and installing as well as the removal of the existing equipment would not be easy.
The Solution
For decades WSH has been experts in warehousing logistics all over Colorado, Eastern Wyoming and Western Nebraska. WSH understood exactly how to approach this challenge. They started by consulting with their vendor, Tri-Arc Manufacturing, a leader in the climbing and access industry, for the best replacement ladder for the job.
A scissor lift was used by a crew clad in full safety harnesses to remove the existing ladder in sections, tied off on the lift. The new, 30-foot replacement ladder first had to be transported to the store in two sections because of its enormous size and then assembled and carefully put in place.
The Result
Removing the old ladder and installing the new was done on time – despite the busy loading area of this Ross location – meeting all safety requirements. The rooftop mounted HVAC units can be accessed again, and the ladder is now located in a location less likely to meet the back end of a semi.
The client is very happy with the results.
Find Out More
Contact Harry Neumann at Western Storage and Handling for more information about how we can solve your warehousing challenges.