When it comes to developing ergonomic workstations, there are wins all around: For your employees, your company at large, and your bottom line. Here, we're exploring the top 5 reasons your company would benefit from implementing ergonomic desks and workspaces.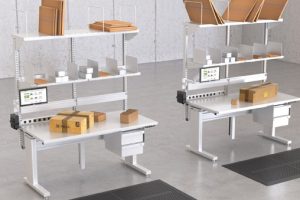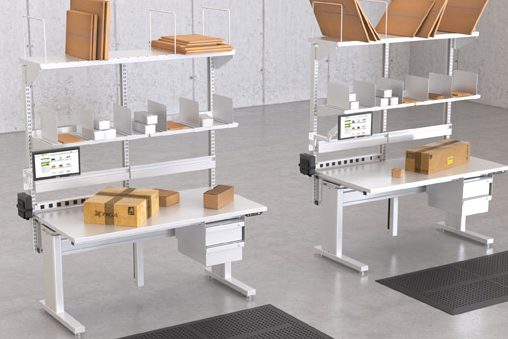 Prevent Hazards
Whether it's from repetitive movements, monitors that are too low or too high, or desks and chairs that aren't the right height, spending hours at a station that isn't tailored for your body can result in aches and pains, stiffness, joint pain, and other long-term and more serious illnesses. Investing in workstations that provide for an ideal workspace cuts down on these ailments. This brings us to…
Reduce Potential Claims Costs
Preventing workplace injuries can help save your company money down the line. The average compensation for an injury on the job is well over $100,000 a claim. Creating ergonomic workstations in your office, warehouse, or retail store, can save you money, enhance your reputation, and make your employees feel valued and safe.
Create a Culture of Health and Safety
By creating workstations that work with your body to prevent common aches and pains, ergonomic options actually promote wellness in your body in a multitude of ways. One example: Proper angles and height for your chair, desk, and monitor can protect your back and posture, support circulation, prevent tension in your head and neck, increasing your comfort and, therefore, your productivity.
Increase Productivity
Ergonomic workstations don't only increase employee comfort, they also actively work to make the workplace more efficient by keeping spaces highly organized. Repetitive, strenuous movements can be targeted and minimized, and aches and pains are reduced or eliminated, allowing for happier and more focused employees who provide high-quality work.
Support the Health and Wellbeing of Employees with Stationary Jobs
Recent studies have shown that sitting for several hours a day can have a host of negative effects on your body. Giving your employees the option to switch from sitting at their desks to standing is a proven way to boost productivity and boost their cardiovascular health.
Ergonomic workstations are more popular than ever before. Check out this great video from our partners at BOSTONtec to see what sorts of options are available to your business through Western Storage and Handling, no matter what your business setting or type.
Explore All of our Ergonomically-Sound Workspace Options with a Free Consultation from our Ergonomics Expert, Steve Paiement.
Steve Paiement is an Industrial Engineer with over 25 years in the operations management and consulting industry, specializing in implementing solutions that provide real value and payback to WSH customers.
Steve manages the Colorado Springs location serving El Paso, Fremont, Pueblo, and Custer Counties and has assisted customers as far south as Durango, Colorado.
In his spare time, Steve loves golfing, hiking the Colorado trails, and all things hockey: GO-AVS-GO!
---
We have both Denver and Colorado Springs locations! Serving Colorado, Eastern Wyoming, and Western Nebraska.
DENVER OFFICE
1630 West Evans Ave, Unit L
Denver, Colorado 80110
Phone: 303-937-8376
COLORADO SPRINGS OFFICE
1880 Office Club Pointe
Colorado Springs, CO 80920
Phone: 719-272-8253