What storage solution instantly provides security, simplicity, efficiency, and protection against dirt and grime? The answer: Industrial modular drawer systems!
An Ideal Solution for Both Small and Large Parts
These drawers are ideal if you need to organize a slew of small parts for your business or operation. Need to store screws, nuts, bolts, and other small hardware and assembly pieces? The modular style allows you to organized a large variety of parts into a compact space. You achieve increased efficiency by reducing travel distance between parts and simplifying the inventory process.
You can customize each drawer with adjustable dividers to make sure all of your items fit and to maximize every inch of your storage space. Plus, sections can be labeled to help reduce the chances of pulling the wrong part.
These systems offer solutions for large, heavy items as well. Units can be customized to fit large rugged tools or heavy machine parts and are sturdy enough to store even the heaviest machinery safely.
A Great Addition to Any Storage System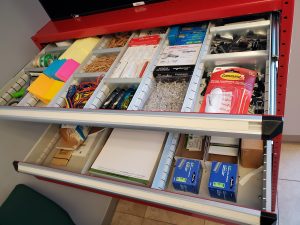 Need a mixture of shelves and drawers? No problem! These modular units can be added to existing shelving units, or we can install a combination of shelves and drawers to meet your needs.
What to do with all of your office supplies? Our modular drawer system is the perfect solution.
Our Partner Brands
At Western Storage and Handling, we work with the most trusted names in the storage and handling industry, including Borroughs and Lista Storage for our modular drawer units. Their strong track record of success means only the best results for you.
Get Our "No-Strings-Attached" Expert Advice
Not sure the storage solution that would work best for your needs? Contact our storage expert Dan Neumann for a free consultation. Dan's extensive knowledge in storage solutions can help you get the most bang for your buck and your space.
Dan has been our Material Handling Territory Manager for more than 6 years. He specializes in:
Dan's favorite part of the job is collaborating with customers to turn ideas and sketches into fully fledged storage solutions. He is a Colorado Native and enjoys spending time with his family and all-things related to the automotive industry, baseball, and the outdoors.
> Give us a call at 877-669-6602 or email Dan directly at [email protected] to set up your free consultation today!
---
We have both Denver and Colorado Springs locations! Serving Colorado, Eastern Wyoming and Western Nebraska.
DENVER OFFICE
1630 West Evans Ave, unit L
Denver, Colorado 80110
Phone: 303-937-8376
COLORADO SPRINGS OFFICE
1880 Office Club Pointe
Colorado Springs, CO 80920
Phone: 719-272-8253