Zephyr Mtn. Lodge installed new Storage Ski Lockers with programmed locks. Western Storage is a leading distributor of Ski Lockers in the Rocky Mtn. Region.
The Client
Zephyr Mountain Lodge (Zephyr) is ski-in, ski-out, with upscale accommodation at the very base of the slopes in Winter Park, Colorado. With all the character of a traditional mountain lodge, Zephyr is a popular destination because of its privacy, comfort, and location of just 110 feet from the Zephyr Express Lift.
Operated by Hammersmith Management and built-in 1999, it was time for some much-needed renovations to the locker rooms. Knowing they needed to fit more into an already tight space, Hammersmith called on Western Storage and Handling (WSH) to help.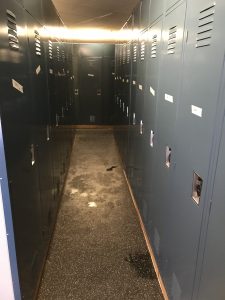 The Challenge
The original plastic laminate ski lockers were no longer functioning the way they were intended and ultimately not living up to the high-end luxury aesthetic the rest of Zephyr Mountain Lodge was known for. Without adding any additional space to the locker rooms, Hammersmith wanted to fit the same number of bigger, metal lockers into the existing area.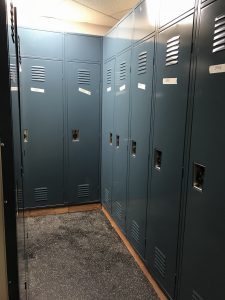 The Solution
With decades of experience in warehousing and material handling all over Colorado, Eastern Wyoming, and Western Nebraska, WSH understands space better than anyone, and their experts knew exactly what to do.
The project began with the removal and recycling of the old lockers by Zephyr's maintenance staff. Once the area was cleared out, WSH's team came in to survey the space. Because of the complex, angled walls, very detailed measurements and a few rounds of tweaking were needed to create the perfect floorplan.
With guidance from WSH, Zephyr's maintenance team built custom bases. The new Republic Storage ski lockers were then delivered by hand – all 12,000 pounds were carried from the street level up to the second floor using only hand push carts and dollies all while fighting traffic and other construction crews – by WSH.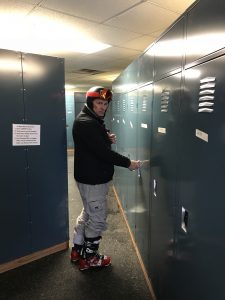 The Result
Not only were they able to design new locker room layouts with bigger, metal lockers that meet the aesthetic standards of the Zephyr Mountain Lodge, but the new lockers also have specially programmed locks that work with the tenants' room keys making them much easier for the Zephyr staff to manage. Both Hammersmith Management and the staff at Zephyr are extremely happy with the results.
Find Out More
Contact Harry Neumann at Western Storage and Handling for more information about how we can solve your storage and shelving challenges.