Flynn Companies came to Western Storage and Handling to help with resources and materials to create their vision. They were in need of a storage mezzanine system with a chain-link enclosure and Speedrack pallet racking.
The Client
For over 35 years, Flynn Companies has been providing building contracting services in the institutional, commercial, and industrial construction arenas across locations in Canada and the United States.
As North America's leading building trade contractors, Flynn designs, builds, installs, and maintains complete building envelopes – the only trade contractors in North America with the expertise and resources to work on virtually every aspect of a building's outer layer.
Known for operational excellence and superior project results, it's a real honor to have the opportunity to solve one of their pain points.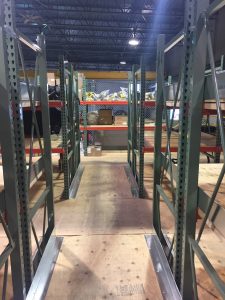 The Challenge
At their Denver, Colorado location, Flynn wanted to install a storage mezzanine with a chain-link enclosed area for high-end tools and hardware. Some of their other locations in Canada have similar installations that have been ideal for their use.
Flynn needed a partner with the resources and materials to create their vision.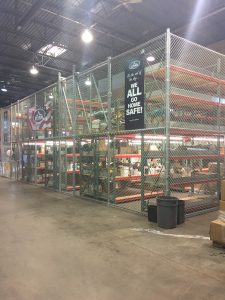 The real challenge, in this case, was the time crunch. Although Flynn already knew the type of solution they wanted, their installation window was only four weeks from kick-off to completion.
The Solution
Western Storage and Handling (WSH) had the perfect solution. With decades of experience in material handling all over Colorado, Eastern Wyoming, and Western Nebraska – and in this case, even more important, their 10,000-square-foot distribution center located conveniently in Denver – they knew exactly what to do.
WSH had the perfect Speedrack pallet racking and mezzanine system elements needed to achieve Flynn's goals available in their own local stock. The stairs and special handrail components required to complete the project were customers fabricated right in WSH's own shop.
The Result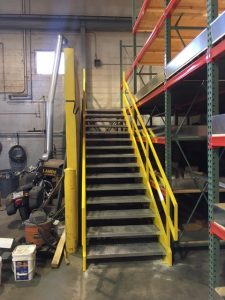 As can be expected when two giants in their fields come together on a project, everything went perfectly. WSH delivered the mezzanine, racking, and custom stair elements and worked with Flynn's own decking material and manpower.
The short four-week timeframe was met and the fire department inspection passed with flying colors – and most importantly, Flynn is extremely pleased with the end result.
Find Out More
Contact Harry Neumann at Western Storage and Handling for more information about how we can solve your storage and shelving challenges.