Automotive storage solutions involve the design and installation of a variety of shelving and heavy-duty drawer systems. Call for more info at 303-937-8376.
The Client
For over 30 years, Mercedes-Benz of Denver has provided Colorado with an exemplary car buying experience. After decades of exceeding customer expectations, it was time to build a brand new facility to carry them forward into an even brighter future.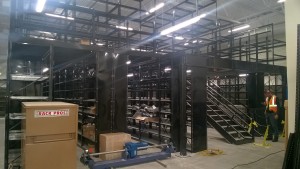 The Challenge
While it will be hard for any car buyer approaching the new facility–set to open in January of 2017–to miss the stunning, glass-walled showroom holding an impressive 40 vehicles in a manner more comfortable than your own living room, there's a lot more going on behind the scenes.
In addition to the automotive palace, and crucial to their business, is the three-level Service and Parts Department. Three floors mean a lot of space for storage, but it also means a lot of vertical ground to cover for effective delivery.
On top of needing to move parts from three levels of storage safely and efficiently, the installation had to be accomplished on a very busy new construction site involving many moving parts and strict timelines.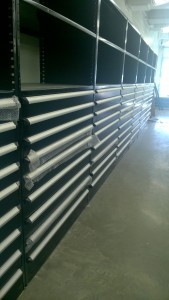 The Solution
Western Storage and Handling (WSH) leveraged the experience of its staff to create the perfect situation for managing all these moving parts. It started with Borroughs automotive storage equipment including BoxEdge shelving – specifically designed for storing large, heavy, and bulky items – with HD drawers and Rivet Span bulk shelving – an incredibly strong yet flexible solution that is easy to assemble.
To move parts from floor to floor, a PFlow vertical reciprocating conveyor with a six-foot by six-foot, 2,000-pound capacity was installed. As for the active construction site, WSH has worked successfully in similar conditions many times before. To best coordinate with all the different companies and contractors involved in the build, WSH staged all the materials at the construction site one full month before installation began.
The Result
Hard hats, high-visibility vests, steel-toed boots, and safety glasses were the strict norm on site. Safety meetings were held daily to confirm that all procedures met the strict safety guidelines.
The project was completed on time to the complete satisfaction of the customer. As of this writing, the new Mercedes-Benz of Denver showroom is set to make its grand opening in January of 2017 as planned.
Find Out More
Contact Harry Neumann at Western Storage and Handling for more information about how we can solve your storage and shelving challenges.