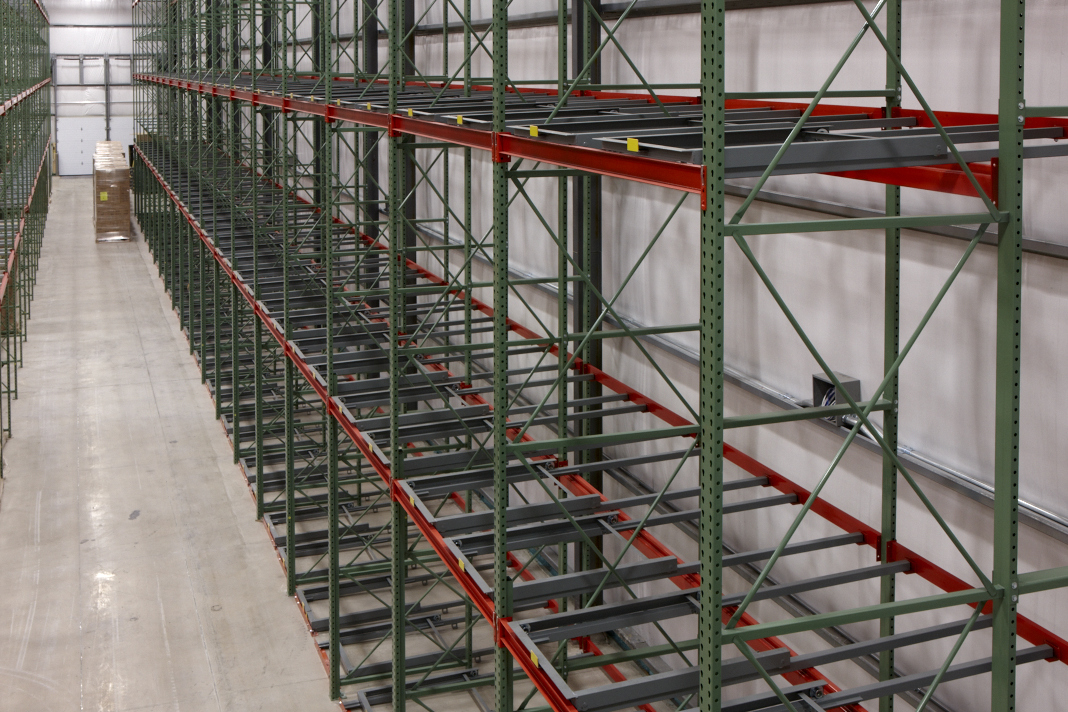 We're proud to partner with Speedrack Products Group Ltd. to bring you the latest in pallet rack safety and efficiency. Here are some of their most sought-after products.
Pallet racks may be simple structures, but their durability and engineering are absolutely critical to ensuring a safe workplace and a proper way to store products and inventory. Speedrack — a WSH partner and leading manufacturer of pallet rack equipment for over 66 years — offers just that: Top-tier, reliable products that are specifically engineered by Speedrack experts to enhance your warehouse storage systems and operations. 
Speedrack 3D Push-Back Carts: Making the most of your space
Push-back pallet rack systems can be an excellent option for companies looking to maximize their warehouse space and create a solution that's easy to maneuver and manage. With the 3D push-back carts and system, employees load pallets from one side only, gently pushing back the pallet in the foremost position. The pallets then gently glide to the empty spots in the back of the row. This keeps the pallets accessible at all times while making the most of all the space in that section. The smart design of the 3D push-back carts also allows staff to see how many more pallets can fit through a simple system of small metal bars at the front of the row that enumerate how many pallets have already been added to that row (see photo).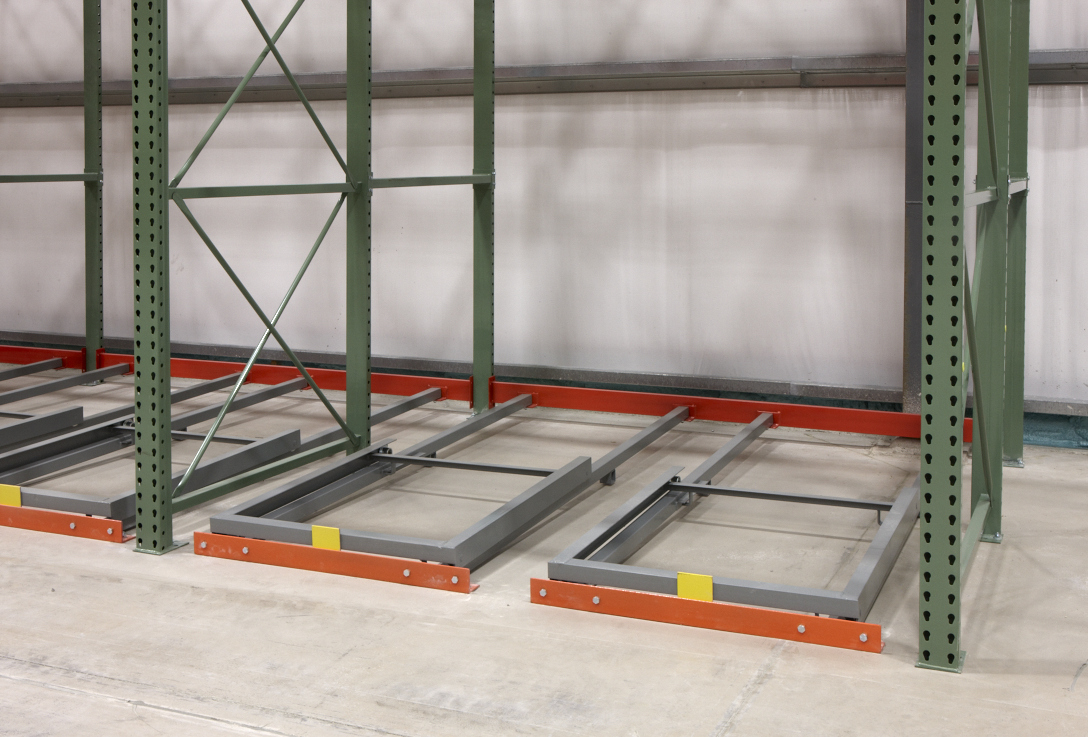 These push-back designs can also be designed to accommodate different pallet sizes and weights, making them a flexible option for businesses with diverse product lines. They are also perfect for products and inventory that can sit dormant for many months and that do not expire. 
Loading in and out from one side only also reduces aisle width requirements, which creates more usable space to store goods and inventory. The racks carried by Speedrack are manufactured by 3D Storage Systems, a leading distributor of push-back systems and a partner of Speedrack and WSH. 
T
otally tubular design: The strongest and safest pallet rack available today
In 1971, Speedrack invented the totally tubular rack design, which provides greater strength per pound and higher resistance to damage and conventional alternatives with a more open design. According to Speedrack, "it is 200 times more resistant to torsional forces than typical open column designs and has 30 – 40% greater capacity." Learn more about their tubular beams.
About Speedrack
Speedrack, based in Michigan, employs more than 300 people in three manufacturing facilities. Its first product, vertical storage racks, were distributed to several manufacturers throughout Illinois. Since then, they have pioneered many warehouse storage system products including pre-fabricated upright frames, adjustable cantilever racks, welded racks, and more.
Call us
 today for the best pallet rack solutions on the market
We'll guide you through our products and the design process to create a solution that works for your timeframe and budget! Give us a call at  303-937-8376 for a free consultation. 
Have you worked with us on a project? Share Your Experience on Google Business Reviews!
Serving Colorado, Eastern Wyoming and Western Nebraska.
We have both Denver and Colorado Springs locations! 
DENVER OFFICE
1630 West Evans Ave, unit L
Denver, Colorado 80110
Phone: 303-937-8376
COLORADO SPRINGS OFFICE
1880 Office Club Pointe
Colorado Springs, CO 80920
Phone: 719-272-8253