The Client
Mile Hi Foods, a fourth generation, family owned food warehouse and delivery company in Denver CO, supplies food and paper products to over 360 McDonald's restaurants in the Rocky Mountain region. When McDonald's opened its first location in Denver in 1956, Mile Hi was there and has been the distributor of choice ever since.
Sixty years of success means dealing with a lot of growing pains. Mile Hi Foods came to Western Storage and Handling of Denver CO in need of serious increase to its freezing storage.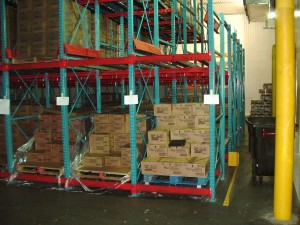 The Challenge
At the time, to accommodate demand, Mile Hi Foods was maximizing six refrigerated trailers taking up space in their parking lot — not their ideal situation for efficient storage.
The goal was to rethink the interior freezer space to increase its capacity by 20 to 25% while also maintaining first-in, first-out inventory control and therefore eliminating the need for the six temporary frozen storage trailers.
The Solution
Western Storage and Handling began by removing the existing selective pallet racks and installed a new, pallet flow rack system — all while maintaining a negative 10-degree temperature in the freezer unit so Mile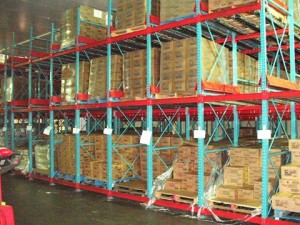 Hi Foods would suffer no down time during the installation process.
With the new racks by Speedrack and flow system by 3D Systems, pallets can be loaded on one end then travel through the freezer to be unloaded on the other maintaining first-in, first-out inventory control.
Additionally, Western Storage and Handling installed rack protectors to prevent forklifts from damaging the system, making the overall plan even stronger.
The Result Storage capacity was met, all six temporary frozen storage trailers have been removed and Mile Hi Foods is very satisfied with the results.
Find Out More
Contact Harry Neumann at [email protected] or go to our web site https://www.westernstorageandhandling.com/ for more information about how we can solve your storage and shelving challenges.