No matter where you need a new facility – NY, LA, FL, Vegas, or anywhere else in the United States – we can help you with every step of the process, including planning, engineering, and setup.
Building a warehouse distribution center is no small feat. Between developing the best warehouse setup for your needs to making sure every permit and protocol is accounted for, it can be a lot for an organization to manage on top of everyday operations. 

At Western Storage and Handling, we can take care of planning and developing your new distribution center from start to finish, whether it's right here in Colorado or elsewhere in the United States. Our experts have worked with some of the biggest corporations in the world to create systems and facilities that benefit both employees and bottom lines.
Let us take the stress and headaches out of planning your next facility. Here's what we offer. You can also learn more about our services in this short video. 
Our Services
Complete Project Management
We offer full-service project management from beginning to end with a single point of contact for your convenience. This includes every aspect of setting up a distribution center including equipment relocation, palletizing services, new warehouse planning, and more. (Please note: We do NOT set up office spaces, desks, computers, or other related technology.) 
AutoCAD drawings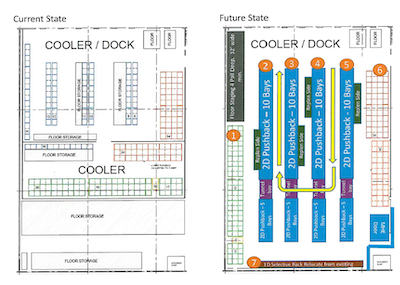 Our experts can create 2D and 3D engineered drawings using AutoCAD software to show you exactly how your distribution center will look and function. (See photo for an AutoCAD example.) These drawings don't only show setups – they also depict specific improvements, including things like how many more products can fit in vertical space-saving pallets and platforms, and time and money savings related to more efficient picking systems.
City/County Building & Fire Permits
Obtaining all the necessary safety certifications can become a huge obstacle for new or upgraded facilities. WSH handles every aspect of these critically important city and county building inspections, permits, anchor inspections, stamped and calculated engineered drawings for obtaining permits, and more.
Complete Material Ordering, Delivery & Installation
After engineering floor plans that help you create the most efficient and productive systems, we can assist with obtaining and installing the following:
Pallet racks

Push-back racks

Guardrails

Wire security partitions (trucker entrances)

Conveyors

Modular offices

Storage platforms and/or mezzanines

Employee locker rooms

Dock guards and bollards

And so much more
Anchor Inspections
Most cities and counties require additional safety measures, such as implementing seismic bolts to anchor pallet rack foundations and require engineers or city inspectors to sign off on these final details. We'll remove this hurdle for you by being your main point of contact for identifying and handling all anchor inspections!
We Specialize in ALL Dry Storage, Cooler and Freezer Facilities
Labor costs can fluctuate enormously based on the temperature of the environment they are working in (dry storage vs freezers, etc.). WSH can help you navigate these costs and assist in developing the best storage types for your products. We also work around production schedules to eliminate any production lags.
Maintenance and Repairs
Once your distribution warehouse is complete, we are here to help maintain your new equipment and setup, including but not limited to: Ordering, shipping, and installing additional equipment, fixing damage to upright posts or guardrails, adjusting beam levels for new inventory, and staying on top of annual inspections and permits. 
Locations of Recent Projects 
Albuquerque, NM
Chicago, IL
Denver, CO
Indianapolis, IN
Las Vegas, NV
Los Angeles, CA
Miami, FL
Riverside, MO
Roseville, MN
Salt Lake City, UT
Seattle, WA
Schertz, TX
Planning to open a new distribution center? 
We'd love to chat! Contact us at 877-669-6602 for a free consultation. We'll assess your needs and share competitive quotes on the warehouse solutions that work best for you. We look forward to speaking with you!
Serving Colorado, Eastern Wyoming and Western Nebraska.
We have both Denver and Colorado Springs locations! 
DENVER OFFICE
1630 West Evans Ave, unit L
Denver, Colorado 80110
Phone: 303-937-8376
COLORADO SPRINGS OFFICE
1880 Office Club Pointe
Colorado Springs, CO 80920
Phone: 719-272-8253