Vertical lifts are the perfect solution for operations looking to streamline their picking process and optimize warehouse floor space. 
Here's an example of automation taking vertical storage solutions to the next level. Vertical carousels, such as the Pan Carousel from our partner Vidir, can increase your inventory capacity by up to 70%, while making your workplace safer, more secure, and more efficient. 
We're pleased to see the rise in requests for this great solution in the Denver Metro region and throughout Colorado and have been excited to implement these carousels for industries including major transit authorities and space electronics corporations. 
Here's the lowdown on what vertical carousels are (AKA Vertical Lift Modules, or VLM), and how they can help your business run more smoothly. 
How They Work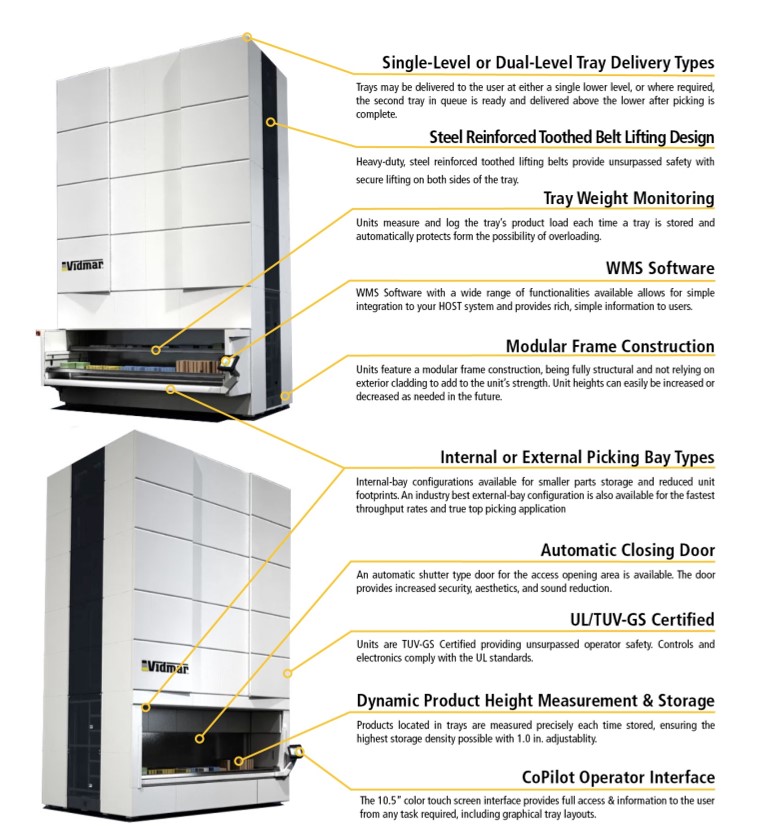 Vertical lifts are innovative, computerized storage solutions that make organizing and picking products a cinch. 
First, products are placed inside the carousel through a series of nested carriers, dividers and intermediary shelves that can be customized to fit a wide range of SKUs. The carousels are easily reconfigurable for your exact needs, and keep inventory organized and easy to maintain. 
Once the products are in, staff are able to easily retrieve them by simply entering their product number into a touchscreen. The carousel then picks the product and delivers it directly to the employee, fulfilling the order. This completely eliminates the need for employees to seek and retrieve products themselves. 
Vertical carousels can pick individual products or pick a series of products through a pick list, creating a smooth, error-free and worry-free picking experience.
The Benefits of Vertical Carousels
Vertical carousels are extremely compact and make the most of your storage space by growing upward rather than sideways. They maintain a small warehouse footprint by storing your products in a dense, compact manner that maximizes high, potentially unused warehouse space. With manual product picking, operations need large spaces with detailed labels and picking routes. Vertical carousels eliminate the need for these large spaces by utilizing vertical space and creating a system whereby the products come to your employees, rather than the other way around. 
Vertical Carousels Create Safe, Ergonomic Workspaces 
Vertical carousels can eliminate a lot of the walking, bending, picking, and climbing that tends to be associated with product retrieval. Rather than climb to potentially hazardous heights with ladders and cherry pickers, these carousels do the climbing and picking for your employees, creating a workspace that is both safer and more ergonomic. In addition, carousel heights are adjusted from the get-go to make sure employees operate them at safe, acceptable heights. 
Vertical lifts can also carry a tremendous amount of weight, preventing heavy lifts by employees. For example, our latest case study shows how heavy items like semi-truck tires can be stored in a carousel. This alleviates the potential risks associated with lifting and picking heavy items, like car and truck parts, especially if they are stored on high platforms. 
Vertical Lift Modules Improve Security, Maintain Inventory, and Improve Productivity
Vertical carousels are enclosed with the ability to "lock in" and secure products, which then can only be retrieved through the automated picking process. This increases warehouse security by making certain products inherently hard to seek and acquire. The enclosed machines also protect inventory from damage, dust, microparticles, and even seismic activity, making them a great long-term solution for maintaining products such as electronics and other sensitive equipment. Increased picking accuracy and fast, automated retrieval times by the carousel boost efficiency and productivity.
Interested in learning more and seeing if this solution will work for your operation? 
Contact us at 877-669-6602 for a free consultation. We look forward to speaking with you!
Serving Colorado, Eastern Wyoming and Western Nebraska.
We have both Denver and Colorado Springs locations! 
DENVER OFFICE
1630 West Evans Ave, unit L
Denver, Colorado 80110
Phone: 303-937-8376
COLORADO SPRINGS OFFICE
1880 Office Club Pointe
Colorado Springs, CO 80920
Phone: 719-272-8253