When it comes to storing wine, beer, or other liquids in large 55-gallon drums or kegs, safety must be at top of mind. Using the proper handling equipment is key to preventing warehouse accidents such as injured employees, loss of product, and spills. Whether you're moving beverages or chemicals, or are using steel, fiber, or plastic drums, here's our quick guide to moving and handling 55-gallon drums safely.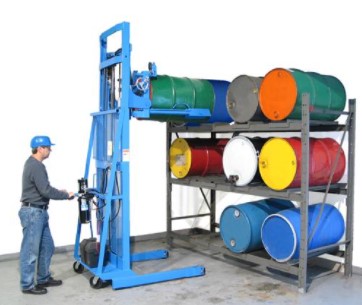 Safely Moving 55-gallon Drums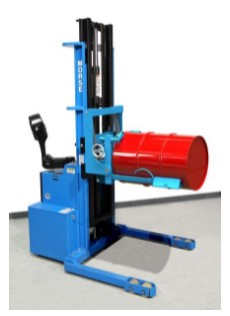 Ever try rolling a 55-gallon drum manually to transport it? This can be a recipe for disaster. Handling such heavy drums with no specialized equipment can lead to physical injury (rolling over toes, back strain, pain from repetitive movements), or even spills (contents can shift and cause the drums to open or leak). Transferring drums via bare forklifts is also not recommended — drums can easily be punctured by the forks, causing you to lose product or create hazardous spills. 
A much safer method is to use specially-designed dollies to maneuver and move drums. For metal drums, we recommend drum dollies and dolly handles to safely push and pull drums. Morse Drum Dolly and Clamp+GOTM Dolly Handle is a great addition to wheeled, steel drum dollies for ultimate control, ease, and ergonomics. For plastic drums that can be hard to grip, we recommend 4-wheel drum trucks, which will carry the weight for you and offer great stability while you move. Two-wheel drum trucks are another sturdy and effective option.  
When it comes to storing drums on pallets, we recommend Morse forklift drum handlers . These are sturdy, specially designed attachments that allow you to lift, pour, and place a drum all without leaving your forklift. Alternatively, a palletizer can be used to safely add or remove drums from pallets between 6"and 26" high. 
How to Safely Pour Liquids from Your 55-gallon Drums
When full, 55-gallon drums can weigh around 500-800 lbs. Avoid awkward and unsafe manual pouring methods by trying Drum Palletizers with Geared Tilt Drum Pouring. These offer a variety of ways to tilt and pour drums safely with battery, air, plug-in, or manual cranks to help you tilt and pour with complete control and ease. For mobile, controlled dispensing from greater heights (maximum drum dispensing height of 72″ or 96″) we recommend Hydra-Lift Drum Karriers. These are safety-conscious and combine incredible strength with solid drum handling. Spark-resistant electrostatic discharge (ESD) models are also available. 
---
Have questions about your specific drum storage needs? Give us a call and speak to one of our drum handling experts.
Receive a free, on-site consultation by giving us a call at 877-669-6602. We look forward to talking with you!
Serving Colorado, Eastern Wyoming, and Western Nebraska.
We have both Denver and Colorado Springs locations! 
DENVER OFFICE
1630 West Evans Ave, Unit L
Denver, Colorado 80110
Phone: 303-937-8376
COLORADO SPRINGS OFFICE
1880 Office Club Pointe
Colorado Springs, CO 80920
Phone: 719-272-8253