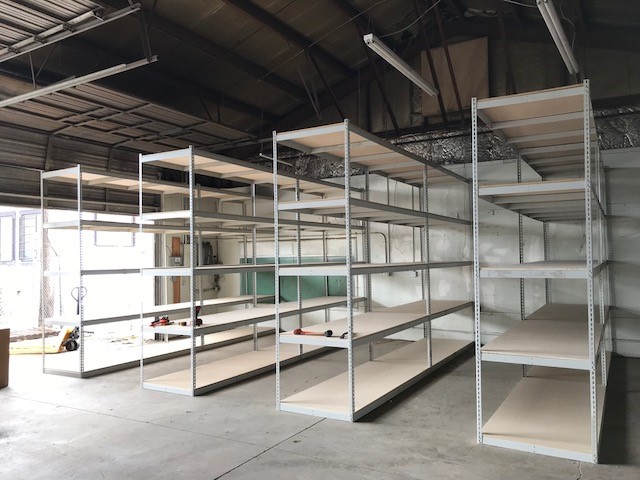 Boltless industrial shelving is often found in home garages, but it can also work wonders to organize business and warehouse storage spaces. Unlike the standard shelves found at big-box building stores, our shelving systems can be custom-built for businesses to manage a variety of space and storage needs. Here's what makes them a versatile and easy-to-assemble storage solution.
Boltless Shelves are Easy to Assemble
Unlike other shelving systems, boltless rivet-style shelves don't need any tools for assembly. The shelf rails interlock with the perforated beams. This allows for a quick and easy setup, as well as multiple shelf height configurations. With our extensive inventory, we can custom-design a system to perfectly fit your storage space and make the most of your space.
A Durable and Reusable Storage Solution
Steel rivet-style shelves are a strong, durable, and long-term storage solution. Because there are no nuts and bolts to deal with, adjusting and reconfiguring the shelves is simple and easy. This makes the shelves a great solution for businesses that may have changing storage needs over the long term. Solid steel wire shelves are durable and allow for maximum airflow and visibility, while particleboard shelves give aesthetic appeal and increased weight capacity.
An Economical Shelving Choice for Businesses
Boltless shelves are cost-effective for a few reasons: They have so few components that they cut out the need for costly nuts and bolts. The simple assembly doesn't require professional installation, which can sometimes increase setup costs. Right now, Western Storage and Handling have a huge selection of used rivet-style shelves at just a fraction of the cost of new shelves! Get major discounts on customized shelving systems by giving us a call today. 
Great for Multiple Uses in Your Warehouse
The simple and durable structure of rivet-style shelves allows them to be of good use in a multitude of storage needs. The open structure allows products to be viewable from all sides. They are sturdy and spacious enough to hold small-to-medium-sized boxes, plastic crates, and storage bins. Larger, heavier items can also work well with rivet-style shelves, and storage surfaces can be made of wood, steel, or wire for reinforcement. As your storage needs change, the shelves can be easily restructured. Check out how Western Storage and Handling solved a spool storage problem with custom-designed boltless shelves.
Need rivet-style shelving NOW? Give us a call and speak to one of our experts!
Receive a free, on-site consultation by giving us a call at 877-669-6602. We look forward to speaking with you!
Serving Colorado, Eastern Wyoming, and Western Nebraska.
We have both Denver and Colorado Springs locations! 
DENVER OFFICE
1630 West Evans Ave, Unit L
Denver, Colorado 80110
Phone: 303-937-8376
COLORADO SPRINGS OFFICE
1880 Office Club Pointe
Colorado Springs, CO 80920
Phone: 719-272-8253