The Client
Northeast of Denver sits Adams county, Colorado's fifth largest county by population and encompassing both suburban and rural communities, surrounded by regional parks and recreational land.  
The county administration holds to one, succinct mission, "to responsibly serve the Adams County community with integrity and innovation". When their Building Maintenance division needed serious space for more storage, they found a partner of the same beliefs with Western Storage and Handling (WSH).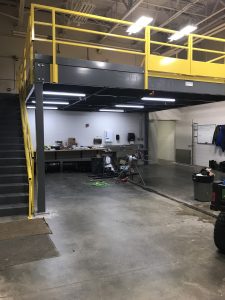 Double your space with a Cubic Design Mezzanine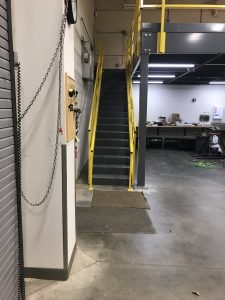 The Challenge
The County needed more storage space for a variety of items including small parts, all within an existing footprint, without expanding their facility. Per the parameters of the project, all work – including materials, installation and permitting – had to be handled by one source and lead to nothing short of a turnkey solution. As a municipality it was also important to Adams County for the project to be completed on time and on budget.
The Solution
WSH has decades of experience with material storage and handling all over Colorado, Eastern Wyoming and Western Nebraska. Right away, they saw how to both increase vertical storage while creating more floorspace by installing two, Cubic Designs mezzanine systems – one of the industry's top designers and makers of free-standing structures.
Working closely with the engineers from Cubic Designs and local builders, Hammer Construction, field measurements and drawings were quickly created and approved, including the work needed for electrical power and fire suppression systems. Safety issues were assessed early on including fall protection and the calculation of the correct head space and clearance for all structures.  
The Result
The combined efforts of Cubic Designs and Hammer Construction with the WSH team meant the project was completed on time, on budget and without issues. The Adams County Building Maintenance division is thrilled with the results and has begun to install shelving on the new mezzanine floor to declutter the remaining storage rooms around the facility.
Find Out More
Contact Harry Neumann at Western Storage and Handling for more information about how we can solve your storage and shelving challenges. Call us at 303-937-8376