CLIENT
Palmer Drives Controls Systems, Inc. (Palmer DCS) of Englewood Colorado is a multi-faceted electrical control solutions company that was established in 2011. For over 40 years, Palmer DCS and its predecessors have supported the electrical control marketplace by providing services and products to a diverse client base all over the world.
Today, Palmer DCS has grown into a nationally recognized supplier of electrical control solutions. Also, they offer custom control panel design and fabrication.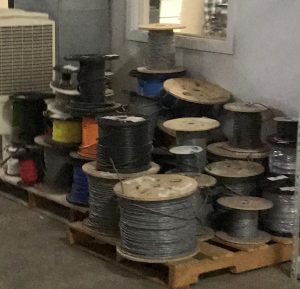 THE CHALLENGE
With all of the different sizes of wire, cable, and flex bar in stock there wasn't a good way to access their product.  Spools of wire and cable were stacked on pallets and the flex bar was stored on a homemade PVC pipe rack. With the increasing business environment, Palmer DCS needed a new approach to organizing this material.
They wanted a non-traditional way spools of wire are typically stored on a rack with an axle running through the middle of the spool. Also, they wanted the ability to pull a whole spool off the rack and take it to the workstation.
THE SOLUTION
Western Storage and Handling (WSH) came up with a plan. WSH engineers design a perfect solution for both the large spools and the smaller ones. For the large spools of cable, they used the Vestil spool rack system which handles spools up to 3 feet in diameter. For the spools, 6 1/2 inches and 10 inches in diameter WSH made custom frames with inverted angle iron. These frames were placed in standard rivet span racks (4 racks) 48 inches wide X 24 inches deep X 72 inches high. Furthermore, they kept the fast-moving spools in the golden pick zone and did not exceed 72 inches high.
THE RESULT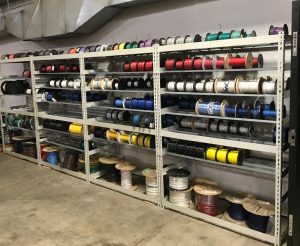 Palmer DCS was under a time crunch as their largest customer who just ordered 50 custom cabinets was coming to inspect their facility. WSH was able to respond quickly. They used their in-stock rack and their in-house fabrication department to make the custom frames in one day. All the material was delivered and installed the next day meeting the customers' timeline.  Palmer DCS was extremely happy with the end result of a job well done.
FIND OUT MORE
Contact Harry Neumann at Western Storage and Handling for more information about how we can solve your warehouse storage and shelving challenges. Call us at 303-937-8376