A community college in Cheyenne, Wyoming, needed to expand and Western Storage and Handling came to their aid by installing day-use lockers with built-in locks.
The Client
A full-service community college in Cheyenne, Wyoming has at its heart a beautiful fitness center used by both students and the community at large. On-campus, it's the place to be for a large variety of activities from yoga to swimming, weight lifting to basketball.
The Challenge
In an effort to be even more user-friendly, this popular campus hot spot wanted to make it easier and safer for the students, staff, faculty, and community members to store their personal items while using the facilities.
As a widely used location, there were concerns for property safety. While traditional gyms offer lockable lockers, relying on users to supply their own locks, members often forget them and leave personal items unattended. Also, too many dedicated lockers can create a space problem if every member has a private locker for full-time use regardless of how often they are on site.
The recreational center needed a way to maximize space while keeping it simple for members to access safe and secure lockers.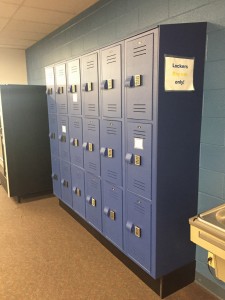 The Solution
Western Storage and Handling saw an easy solution right away: HDPE plastic day-use lockers with built-in locks.
Easy to install, available in several sizes, durable, and equipped with individual locking mechanisms, day-use lockers are becoming more common across the country, particularly in facilities where available space is an issue. By having open lockers available to members as needed, there is less need for space dedicated to infrequent locker use.
With day-use lockers, it's essential for them to be well organized, look good, and have a locking system that's easy for people to use.
Western Storage and Handling chose lockers from Bradley®, the industry's leading manufacturer of commercial washroom accessories. Known for their innovation in washroom category products, the Bradley day-use lockers were a perfect fit for the community college recreational center. The lockers are equipped with DigiLock shared-use, key padlocks. These locks allow the user to select their own 4 digit code.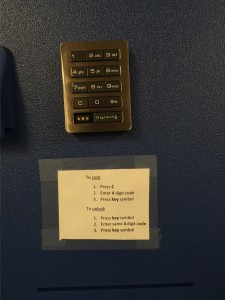 The Result
The client was very happy with the resulting lockers and pleased with how easy the locks have been to use.
Find Out More
Contact Harry Neumann at Western Storage and Handling for more information about how we can solve your storage and shelving challenges.