The Client
Over Labor Day, 2016, a new winery and Italian eatery opened in Littleton, Colorado. Carboy Winery and Angelo's Taverna are the newest players in the Colorado wine scene offering a very unique experience: an urban winery working closely with vineyards and winemakers from the best wine making regions around the world. Patrons enjoy wine that has been further aged, blended and either bottled or served alongside top-rate Italian cuisine with Carboy's own, proprietary label.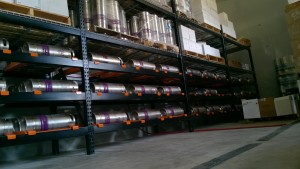 The Challenge
Their 10,000-square-foot space was built to house both Angelo's Taverna and Carboy Winery. The winery has two essential parts: the wine bar where patrons can relax and enjoy the fruits of Carboy's labors, and the winery itself which is far more complex.
Carboy buys wine made in other parts of the world and brings them to Colorado to undergo their unique process to further age and shape the flavors. This requires not just space, but a very specific kind of space.
While the nostalgic days of large oak barrels racked to age a vintner's crop of precious grapes is still a thriving tradition in many parts of the world, a new, much more modern approach is being embraced. Wines casked in stainless steel where the exact atmosphere can be closely controlled and monitored to produce very precise flavors are growing in popularity.
Carboy needed a sophisticated racking system that allowed them to both age their stainless barrels of wine while giving staff access to those ready to drink and provide additional storage above the wine barrels.
The racks also needed to visually fit the room's design and be installed in an active construction site.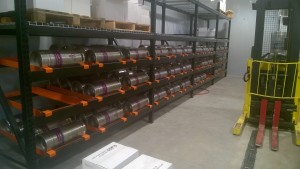 The Solution
Western Storage and Handling (WSH) leveraged experience with the growing micro-brew industry — which Colorado knows well — as well as California's wine industry to design the ideal racking and storage system for Carboy's stainless steel barrels.
WSH started with a double-wide stainless steel rack system, painted to meet Carboy's design requirements and installed to create a keg flow system keeping those that need more time in line behind those more closely ready to drink.
As for the active construction side, WSH has worked successfully in similar conditions before and had no trouble adjusting to the site timelines and meet deadlines.
The Result
Carboy Winery and Angelo's Taverna opened with great success. They are very pleased with WSH's work and the wine continues to flow to great demand.stern Storage and Handling for more information about how we can solve your storage and shelving challenges.
Find Out More
Contact Harry Neumann at Western Storage and Handling for more information about how we can solve your storage and shelving challenges.