If your company is experiencing growth and expansion and a warehouse retrofit won't do, relocating your warehouse to a larger space is the next best option. There are lots of moving pieces when it comes to relocating a warehouse and considerations to make, including finding… 
A crew to tear down your equipment

Another crew to inventory and palletize it

A logistics or freight company to ship it

Another crew at the new location to offload & receive it

An engineering company to get drawings for permits at the new location

A contractor to submit those applications to the city

A crew that can install everything at the new location
Fret not – we provide solutions for all of the above!
When it comes to relocating storage systems, WSH offers a full-service experience with a single point of contact to help fulfill all your equipment relocation needs. Western Storage and Handling doesn't just sell products; we provide warehouse solutions!
Upgrading to a much larger facility and need a new floor plan? Moving across the country? Need someone to completely dismantle and re-install your pallet rack systems and your storage platforms? Our professionals can do it all.
Here's a quick overview of the services we provide.
Warehouse equipment teardown
Western Storage and Handling offer full equipment management services including pallet rack, mezzanine, and storage platform disassembly. Yes, these systems can be easily dismantled and relocated! We'll even help you reconfigure them for your new space (more on that below). In some cases, WSH can even buy back used pallet rack and shelving systems when upgrading a facility with newer, more efficient materials, which makes the relocation process more economical and more eco-friendly.
Efficiency audits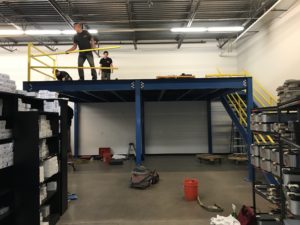 Are there areas of your warehouse that run inefficiently? Evaluating and reassessing workflows before you move is a great way to save time and headaches in the long run. Western Storage and Handling creates plans to make the most of each space, better organize inventory, and implement new systems/accessories whenever possible that expedite things like product picking and pallet loading/unloading in the new location.
Palletizing services
WSH will dismantle pallet rack systems, inventory the materials, palletize, move them, and reconstruct them in your new location.
Shipping equipment to a new location
WSH can arrange the freight and logistics of your warehouse across town, across the state, or across the country; loading and unloading is included. 
New warehouse planning
Our in-house professionals offer complete relocation planning services, including AutoCAD drawings to spec and calculated and stamped engineered drawings of the new location. WSH will maximize the storage capacity and pallet counts using your old pallet rack equipment, or by adding new materials and accessories.
Assistance in obtaining permits
WSH are professionals in every aspect of the relocation process, including accounting for any city, county, or fire-related permits that will be required in the new location.
Reconstruction in a new location
We'll unload and re-install your equipment in your new space. 
Finally, WSH is fully licensed and insured for your security and peace of mind.
Please note: We are not "movers" in the traditional sense! We are your 1-stop shop for relocating warehouse storage equipment and systems. We do not offer services for auditing or moving inventory. Our services cover warehouse relocation only. 
Thinking of relocating your warehouse? Give us a call and speak to one of our experts!
Receive a free consultation by giving us a call at 877-669-6602. We look forward to speaking with you!
Serving Colorado, Eastern Wyoming and Western Nebraska.
We have both Denver and Colorado Springs locations! 
DENVER OFFICE
1630 West Evans Ave, unit L
Denver, Colorado 80110
Phone: 303-937-8376
COLORADO SPRINGS OFFICE
1880 Office Club Pointe
Colorado Springs, CO 80920
Phone: 719-272-8253