Employee Spotlight: Dan Neumann, Territory Manager & Storage Handling Specialist
This month, we're excited to share a profile about one of our veteran sales reps: Dan Neumann! Dan has been a WSH Territory Manager for 7 years. Regionally, he services the Northeast Colorado territory, including downtown Denver, Commerce City to Denver International Airport, and all areas east of I-25.
When asked to describe his approach to his work, Dan's focus remained on the customer. "Great customer service is my first concern," he said. "For me, that means maintaining a cool demeanor and communicating clearly with customers before and during the job, as well as after it's completed."
"I want to make sure we beat all expectations," Dan added. "That means getting the job done right the first time and working collaboratively as a team."
We couldn't agree more and are so grateful to have Dan on our team!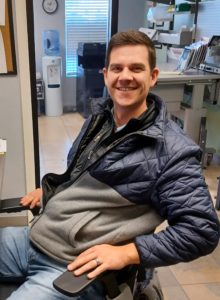 About Dan Neumann: A Mini-Profile
Service Specialities
Large warehouse pallet-rack installations
Large warehouse mezzanines and storage platforms
Overhead crane systems
Automotive dealerships and parts department organization
Modular drawer units
Favorite Ways to Help Customers
Developing mezzanine and pallet racking systems
Brainstorming ways to help customers save money
Brainstorming ways to increase the square footage of usable space
Planning for new applications
Creating ergonomic systems that help move materials or products to correct working heights
Recent Projects
Ergonomic Autoquip scissor lift installations for a baking operation
Overhead crane installation and racking layout and design for an aerospace company
Currently working on an overhead crane installation, multiple racking jobs, a carton flow rack installation, a guardrail and bollard project, and a few small shelving jobs
6 Questions for Dan
1. What does a typical workday look like for you?
A typical day for me starts in the office early in the morning, where I make sure all outgoing orders are prepared, meetings are confirmed, and all correspondence has been answered. I usually leave the office mid-morning to start meetings for the day and outline my projected area of focus for new business. In the afternoons, I prepare proposals, have Zoom meetings, and handle other scheduling and related business.
2. Looking back at all your installation jobs, is there one that sticks out as being the most interesting or fun to work on?
The most fun installation job took place in the Grand Cayman Islands and consisted of 5 different platforms being constructed on a beach for a music festival.
3. What is the best lesson you've learned so far in your career?
There are often changes on projects, from the time we propose materials to the time we deliver and install them. Communication on changes in dates, measurements, and all required movement is essential to the success of the project. I've learned that when obstacles can be communicated with clear heads and even tempers, they can always be handled in an efficient manner.
4. What is the most creative or unconventional job you've ever worked on?
The most interesting jobs we get involved in, in my opinion, are when our industrial equipment gets used in less traditional ways. We have had customers use pallet racking for bunk beds at Burning Man, mezzanines for stages and viewing areas on a beach, scissor lifts for local plays and theater performances.
5. Where's your favorite place in the world?
My favorite place in the world is somewhere outdoors. I love the quiet nights in the mountains with stars all around just as much as the beach and warm weather. But really, it's the company that makes a place special. My forever happy place will always be with my wife and two girls.
6. What's a fun fact about you that people may not know?
The little known fact about me is that I am a former collegiate baseball player and National Champion (2009) with the Lubbock Christian University Chaparrals.
Contact Dan about your next warehouse storage project
Let Dan be your single point of contact for your next storage project by calling 877-669-6602. He looks forward to speaking with you and providing that exceptional customer service that clients have come to rely on.
Have you worked with Dan on a project? Share your experience on Google Business Reviews!
Serving Colorado, Eastern Wyoming, and Western Nebraska.
We have both Denver and Colorado Springs locations!
DENVER OFFICE
1630 West Evans Ave, Unit L
Denver, Colorado 80110
Phone: 303-937-8376
COLORADO SPRINGS OFFICE
1880 Office Club Pointe
Colorado Springs, CO 80920
Phone: 719-272-8253