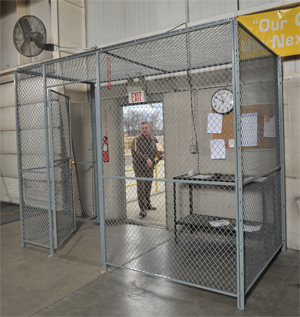 Need to secure multiple entrances of your warehouse or create "special personnel only" areas? Wire mesh enclosures and partitions are a simple and cost-effective solution that can be implemented without hindering production in other parts of your facility. Not only can wire mesh enclosures increase safety and prevent theft — they are customizable for a wide variety of storage and warehouse security needs. Here are a few common applications.
Building Cages for Entrance Security
If your warehouse has multiple entrances or receiving docks that need security, wire mesh enclosures are a great option. They can prevent visitors from wandering through your operation and into the line of active forklift traffic and automated machinery, preventing potentially serious and costly accidents. These enclosures can be built in any size, dimension, length, and/or height. Doors range from push-bar doors that are not accessible from the outside to doors with simple key locks. Can also be upgraded to employee badge access only. They can be customized with ceilings, benches, and service windows. This allows personnel to interact with customers minimally and with complete security.
Warehouse Divisions
Wire mesh partitions can come in handy when you need to create barriers to valuable inventory or office space. Our pre-engineered security partitions can section off parts of your warehouse efficiently and without extra construction costs. All while making sections of your storage space safer and better organized. Add locking gates, sliding doors, and other features to make blocked-off areas easily accessible to those who need it.
Some applications for wire mesh warehouse dividers:
Maintenance areas
Stock rooms
Tenant storage areas
Limited-Access Areas
Secure your most valuable inventory and limit access to areas of your warehouse with a fully-enclosed wire mesh access area. These self-standing enclosures create high-visibility, secure areas that are engineered to protect the most sensitive equipment and create a safe warehouse environment. Customize your enclosure with locking sliding or hinged doors for forklift traffic and pedestrian access.
Some applications for controlled access areas:
Protect expensive tools
Secure sensitive IT equipment
Create high-security enclosures for official entities like the DEA, the US Military, and the USPS
Create a secure and organized tool shed, or "tool crib" to protect equipment create efficiencies
Western Storage & Handling:
Wire Enclosure Experts with the Best Solutions for You
Give us a call for a free consultation to see how wire mesh enclosures could help secure your warehouse. We'll cover all the details from start to finish, including on-site measurements, expert engineering, and installation.
Give us a call today to speak with a security enclosure expert and get a quote: 877-669-6602
---
We have both Denver and Colorado Springs locations! Serving Colorado, Eastern Wyoming, and Western Nebraska.
DENVER OFFICE
1630 West Evans Ave, Unit L
Denver, Colorado 80110
Phone: 303-937-8376
COLORADO SPRINGS OFFICE
1880 Office Club Pointe
Colorado Springs, CO 80920
Phone: 719-272-8253