Mezzanine solutions for doubling or tripling your existing storage space.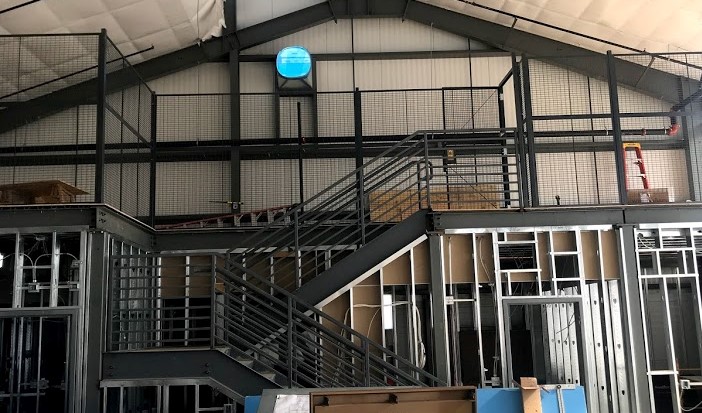 When low on storage space in your warehouse, you may opt for leasing more space or reconfiguring your existing space. However, mezzanines or storage platforms can be cost-effective ways to make the most of the space that you already have, all while following every construction code and safety measure. They're pre-engineered and pre-manufactured yet still highly customizable. We'll design and install a mezzanine system or floor that works best for your needs. Whether you're looking to increase square footage, increase efficiency, or increase productivity.
Our steel mezzanines are top-notch when it comes to safety and security, complete with guardrails, lights, and powder coating in multiple colors to protect against corrosive materials. Add a second or third level to your warehouse to instantly double or triple your storage space with a mezzanine. Or create a secondary level with insular offices or break rooms to utilize the space you already have for new units.
Create Additional Vertical Space with a Storage Platform
Install storage platforms to create multiple levels in your warehouse without the typical construction costs that come with building add-ons. The pre-engineered pieces are made of the highest quality steel and pass all safety codes, creating a budget-friendly yet a secure alternative to leasing more space. At WSH, our experts will assess your space to design a mezzanine system that works perfectly for your warehouse needs.
The benefits of creating multiple levels in your warehouse with a mezzanine:
Instantly double or triple your space without costly construction or additional warehouse purchases
Get levels built quickly with very little disruption to the workweek
Work with your existing site plan to create a system that makes your workflow more efficient
Create a culture of safety with sturdy steel systems that abide by building and safety codes and use guardrails, lights, and other safety measures
Locking gates and entries for security
Can be installed indoors or outdoors
We'll provide on-site consultation, free of charge, to help you design and implement the right mezzanine system for your specific needs.
Add an Upper-Level Office or Lunchroom with a Mezzanine
Mezzanines aren't just for increasing storage capacity. Combine a mezzanine system with a modular office unit to create additional office space, lunchrooms, break rooms, or cafeterias without expanding your warehouse.
Our modular units are expandable, easy to relocate, reusable, and come with customizable designs that include doors, windows, and lighting for security and style. They are a great way to create enclosed offices on site. They can also provide extra security for expensive machinery or tools.
Western Storage & Handling: Mezzanine Experts with the Best Solutions for You
Click Here to check out a project we recently completed for Adams County, using our mezzanine products, as well as, our design and installation services. Give us a call for a free consultation to see how a mezzanine could help your business create more warehouse space safely, efficiently, and cost-effectively. We'll cover all the details from start to finish, including on-site measurements, expert engineering, and installation.
Give us a call today to speak with a mezzanine storage expert: 877-669-6602.
---
We have both Denver and Colorado Springs locations! Serving Colorado, Eastern Wyoming, and Western Nebraska.
DENVER OFFICE
1630 West Evans Ave, Unit L
Denver, Colorado 80110
Phone: 303-937-8376
COLORADO SPRINGS OFFICE
1880 Office Club Pointe
Colorado Springs, CO 80920
Phone: 719-272-8253