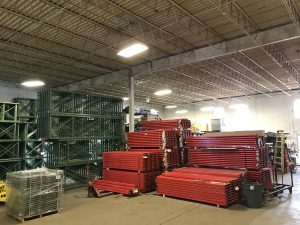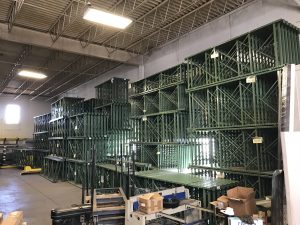 Western Storage and Handling (WSH) is a full-line material handling equipment distributor with a sales office and 10,000-square-foot distribution center located in Denver as well as a sales office in Colorado Springs Colorado. WSH specializes in all aspects of warehouse storage planning and a large pallet rack inventory to help you meet your business objectives. Using AUTOCAD and Configura software, we can show you multiple scenarios of how your facility will look after employing recommendations made by our material handling application experts.
With over a combined 200 years of application experience to draw on and a large local inventory, Western Storage and Handling can quickly implement positive changes that immediately impact your operations. By using highly skilled subcontractors to install and service all the equipment we sell, you experience a single point of responsibility.
WSH was founded on the principle of providing our customers with the best possible solution to their material handling and space utilization applications through experienced application specialists. The WSH people represent over 200 years of experience in the material handling industry.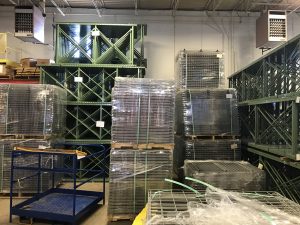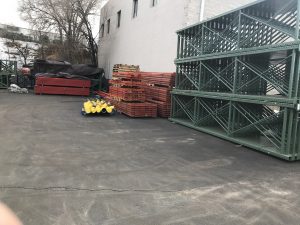 Also, WSH has the space to stage equipment prior to installation, create a showroom to display different types of storage equipment and an additional 8,000-square-foot secured outside storage allows us to house used equipment. WSH now has a fabrication department that can modify equipment to fit specific applications, fabricate custom equipment, and perform service on all types of material handling equipment.
Our increased pallet rack items now include:
6 different heights of 42" deep uprights.
3 different heights of 48" deep uprights
2 different heights of 24" deep uprights
These uprights all have a closed tube, teardrop design with X-type bracing.
We carry 48", 96", 108" 120", and 144" long pallet rack beams. All are orange and vary in capacity. All material is manufactured by SpeedRack. The stock levels in Denver are now in place and ready to go.
Larger warehouse pallet rack inventory provides our customers with faster installation and lowers costs. Call us for more details at 303-937-8376