What can you build, with PortaFab modular building systems?
Modular offices, two story offices, inplant buildings, wall partitions, demising walls, cleanrooms, and environmental enclosures. Anything is possible with an assortment of modular wall types & building components available.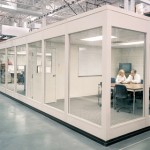 TOP 10 Reasons to Choose PortaFab Modular Buildings over Conventional Construction
1.  Adaptability. Quickly and easily relocatable, expandable, and reusable. Provides maximum flexibility to meet your company's needs.
2.  Quick Installation. Fewer disruptions to plant operations. Most plants can maintain productivity during building installation.
3.  Reduced Construction Labor & Design Costs. Prefabricated components install quickly & easily, resulting in a lower cost of labor compared to conventional construction.
Pre-engineered with no need for an outside engineer or architect. No hidden design costs.
4.  Less Mess. No need to seal off areas against dust. Minimal on-site construction & fabrication reduces dust & other contaminants during the installation process.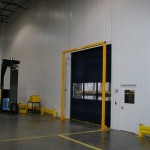 5.  Ease of Coordination. Ability to supply single source installation through the factory-trained distributor network. Buying is simple with local support and assistance.
6.  Appearance & Consistent Quality. Integrated systems manufactured to your exact specifications, providing you with complete design consistency through future additions, expansions or relocations.
7.  Low Maintenance. Pre-finished walls require little maintenance beyond occasional surface cleaning. Eliminates costly painting and other maintenance and repairs.
8.  Durability. Reinforced cavity and tough quality facings decrease chances of damage. Long lasting product will perform for years without deterioration.
9.  Sound Resistance. Fire & Sound panels provide superior sound deadening. Substantial noise level reduction produces a more productive work environment.
10.  Tax Advantages. Accelerated Depreciation. Depreciation is usually over seven years vs. 31-1/2 years for conventional construction for a quicker return on your investment.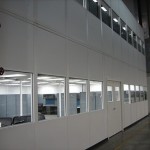 Let Western Storage and Handling show you how a new modular system will coordinate with your existing layout, or help you come up with a entirely new design. We specialize in turnkey operations that can combine material handling products such as; pallet racking, shelving, dock equipment, work benches, cabinets, mezzanines, ergonomic equipment, cranes, conveyors,  lockers, hand trucks & carts, enclosures,
warehouse safety equipment, and much, much more.
Call today & ask our knowledgeable staff to help you with your next project.