How professional pallet rack safety inspections are essential to creating a safe work environment
at your warehouse and to protect your investment. 
Oftentimes, annual safety inspections are required by businesses adhering to OSHA standards and Workers Comp Insurance requirements at their warehouse(s). Beyond complying with regulations, pallet rack safety inspections provide you with the insight you need to identify potential hazards, prevent accidents, and maintain the structural integrity of your systems.
These safety inspections are absolutely essential to running an efficient, productive operation that values employees and their well-being while simultaneously protecting the long-term sustainability of your business.
Identifying potential hazards
WSH regularly performs safety inspections for a variety of industries in Denver and beyond to help operations easily maintain safety standards. Our goal is to identify problem areas before serious accidents occur. Here are some examples:
Damaged pallet rack uprights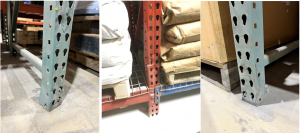 Most often, uprights are damaged by forklift operators accidentally bumping and scraping forklifts against them. What may look like a small dent can actually severely compromise the structural integrity of the upright itself, putting the entire racking system in danger. If damaged uprights are not immediately replaced, a catastrophic failure of your pallet rack system will occur. (It's not a matter of if; but when!)
Damaged beams and improper installation

Pallet rack inspections also uncover any hazards created not only from damaged equipment but also through human error; such as improper installation. Such as found in the identifying pictures above: beams that are not fully clipped into or engaged with the uprights and beams that have been installed upside-down. Both examples can compromise pallet rack structures, in addition to identifying beams that have been severely damaged by forklifts.

Overloaded Racks
Perhaps the most common discovery we find during pallet rack safety inspections are overloaded beams, i.e. those that are loaded with commodities that exceed the maximum weight capacity of the beams. During inspections, our professionals will ensure that beams are not only labeled properly, but that we educate Warehouse and Operations Managers to quickly identify these hazards.  (e.g. The first photo above  is labeled to hold 7,500 lbs but after measurements and calculations, it was found that this beam is only rated to hold a maximum of 4,600 lbs)  In the second photo above; the beam is clearly bending under the pressure of an excessive weight load. This problem, again, caused by human error, can lead to a total rack collapse (not to mention product damage and, potentially, staff injuries).
Wire Decking is the Wrong Size
Wire decking that is the wrong size for the attached beams can cause the weight on the beams to shift, creating an unstable pallet rack system. This is especially problematic when the weight shifts toward the front or back of the beam, or when wire decks are extended and loaded in an imbalanced way, causing rack instability. Our professionals can easily spot wire decking that is not manufactured to the proper commodity that it's holding. Unlike warehouse management and staff, who see these systems day-in and day-out, our equipment handling professionals can give your operation a fresh set of eyes, which is often needed to spot problem areas before they become accidents. 
Included in our detailed inspection reports (by lane and per bay)  are:
Visual inspection for excessive wear or damage of all uprights, beams or guardrails

Noted materials that require immediate replacement or attention to rectify immediate safety or structural hazards

List of required "fixes" that need to be addressed (such as upside-down beams) but not necessarily replaced.

Cost analysis of materials that would be required for immediate replacement and installation, or to meet required weight loads of the stored commodities.

WSH can also perform anchor inspections to ensure pallet racking is held securely to the foundation.
Once the inspection is complete and the report is created, WSH can take the assessment a step further by offering a comprehensive quote with suggestions for updated floor plans, flow, and protective equipment to prevent costly damage to equipment moving forward. This helps businesses stay one step ahead of the safety game and create solutions that are more cost-effective in the long run. 
Give us a call today to make sure you're in compliance with pallet rack safety inspections and safety standards!
We're excited to take a look at your operation to see where safety can be maximized.
Give us a call at 303-937-8376 for a free consultation. 
Have you worked with us on a project? Share Your Experience on Google Business Reviews!
_______________________________________________________________________
Serving Colorado, Eastern Wyoming and Western Nebraska
We have both Denver and Colorado Springs locations! 
DENVER OFFICE
1630 West Evans Ave, unit L
Denver, Colorado 80110
Phone: 303-937-8376
COLORADO SPRINGS OFFICE
1880 Office Club Pointe
Colorado Springs, CO 80920
Phone: 719-272-8253