Western Storage and Handling help businesses maximize warehouse space and increase efficiency with custom mezzanine systems. Installation of a modular drawer system for a recent customer of Western Storage and Handling, Peabody Energy, the leading global pure-play coal company and a member of the Fortune 500, serving power and steel customers in more than 25 countries on six continents. The company headquartered in St Louis MO offers significant scale, high-quality assets, and diversity in geography and products. Peabody is guided by seven core values: safety, customer focus, leadership, people, excellence, integrity, and sustainability.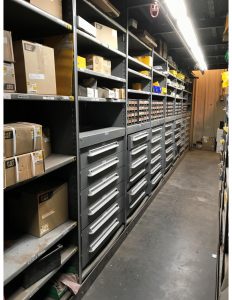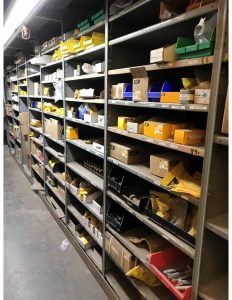 Peabody Energy Narm open-pit coal mine located in Wright, Wyoming needed to increase storage space in their west warehouse that stores parts for Caterpillar mining equipment. They wanted to increase the number of SKUs stored in the warehouse on their existing shelving. Peabody contacted Western Storage and Handling (WSH) to supply and install a modular drawer system that would fit into their existing shelving. WSH provided 42 drawers with 24 compartments per drawer which gave them 964 additional SKU compartments to store the small Caterpillar parts.
The Peabody mine warehouse was located 65 miles from the nearest city and 355 miles from Denver.  Therefore, WSH had all the drawer and shelving materials shipped directly to the mine site.  Once the materials were on site and the installation was completed an onsite safety program had to be viewed by all installers and a written test was required. After the job was completed Peabody expressed their satisfaction for a job well done.
For all your warehouse or facility, needs contact Harry Neumann at [email protected] or call 303-937-8376