Western Storage and Handling (WSH) located in Denver Colorado sold and installed a series of mezzanines used at an outdoor concert Venue on the Grand Cayman island.  The Cayman Islands is an autonomous British Overseas Territory in the western Caribbean Sea. The 264-square-kilometer (102-square-mile) territory comprises the three islands of Grand Cayman, Cayman Brac, and Little Cayman, which are located to the south of Cuba and northeast of Honduras, between Jamaica and the Yucatán Peninsula.
The company on the Grand Cayman Island was on a tight schedule so WSH had to ship all the materials overseas to Georgetown, Grand Cayman, and get the mezzanines set up quickly. After the conclusion of the event, all the equipment was disassembled and stored until the 2020 event. As always WSH tries to meet the customer's needs and they were well organized and brought this project together on time.
The company needed a finished space to use on top of the mezzanine and below the mezzanines to entertain concert-goers.  The event coordinator had previously used scaffolding, but that would not allow the patrons to enter the space below the structure. The layout was already planned but WSH needed to understand how to bring materials all together on the island. It was very important to maintain the timeline for delivery and installation.  The order needed to be completed as the drawings detailed due to customs and local permitting issues.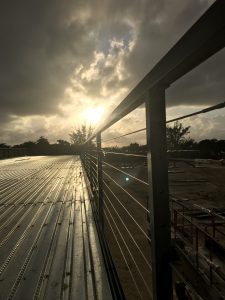 The Cubic Designs mezzanine systems with a total of 9,408 square feet were utilized to satisfy the customer's needs.  This large mezzanine system was used as a hospitality suite both on top of the structures and below for special ticket holders.
The customer and WSH expert engineers held multiple design meetings along with product reviews to ensure that the correct materials were selected.  Early decisions along with proper planning allowed for ease of delivery on important timeline items.  WSH provided experienced supervisors on site ensuring that materials were properly installed, and installation moved along at the proper pace. Local construction labor was utilized for 75% of the installation.
All in all, the event went very well.  The company was very satisfied with the finished project.  After this year's event, the customer can disassemble and store the mezzanines in a protected environment for next year's event.
Contact Harry Neumann at Western Storage and Handling for more information about how we can solve your storage and shelving challenges. Call us at 303-937-8376