When our customer made the move from California to Wyoming, they were presented with many challenges. Western Storage and Handling partnered with this pipe coating company to design and set up their Quality Control Laboratory. As a leader in storage equipment application and design assistance in the Rocky Mountain Region, Western assisted with the layout and was successful in completing the project.
The project involved layout and product selection of work centers, overhead storage cabinets, stainless sinks, and were all covered with a lab quality work surface.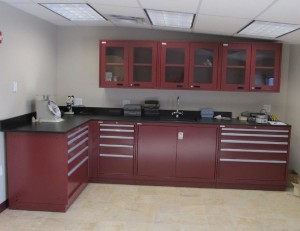 The customer selected Lista combination modular drawers, with a lab quality black phenolic work surface. The storage cabinets used Lexan visual panels in the doors and were all mounted. The cabinets and drawer cabinets were painted a customer specified burgundy color.
The modular drawers and storage cabinets were master keyed.