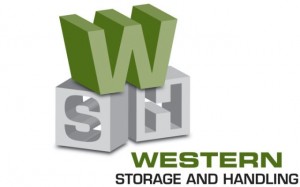 Western Storage and Handling recently assisted a large U.S. Defense contractor deal with reqirements for additional space within their existing leased facility. Because of continued double digit growth, this customer needed to expand the service and parts departments.
Western Storage and Handling utilized a custom designed mezzanine system to accomodate the requirement for additional floor space eliminating the need to lease additional building space.
The mezzanine system included a resin deck floor which allows the customer to use carts and pallet jacks on the floor surface.
Because the mezzanine was designed, constructed, and assembled, in compliance with the International Building Code there were no problems getting the required permits from the local building department.
Western Storage and Handling performed all project management including the coordination of fire protection installation, and lighting installation.
Hand rail and kick plate were installed around the perimeter of the mezzanine. A pallet drop gate allows easy loading and unloading of large loads using a fork lift truck. Wire mesh enclosures were installed to create secured storage areas both on the mezzanine and underneath it. Industrial shelving, bulk racks, modular drawer cabinets, and work benches were strategically located to maximize the efficiency of both floor spaces.