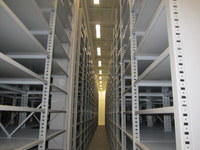 The largest industrial steel shelving project in the Rocky Mountain Region has just been completed by Western Storage and Handling and Borroughs Corp. This high-rise shelving project was completed on time and within budget.
Over 2 million pounds of industrial clip style shelving will be used to store federal government records. In a brand new facility built in Broomfield, Colorado, the National Archives and Records Administration will manage the operation with over 7,000 units of shelving 13′ high X 42″ wide X 30″ deep. Each unit has 15 shelves and will accommodate archives records boxes.
When you have a storage project draw on the experience of Western Storage and Handling to get the job done right, on time, and within budget.