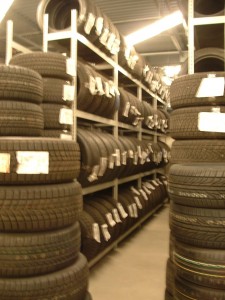 Western Storage and Handling of Englewood, Colorado was selected to supply tire rack, work benches for the service department, industrial shelving and modular drawers for the parts department to the new automive dealership in Highlands Ranch, Colorado.
Delivery of the equipment and assembly occured in a very tight time frame enabling the dealership to open on time fully equipped to service their customers. A combination of industrial shelving with modular drawers are being used to store parts in a minimum amount of floorspace and close to the issue counter.
This dealership offers storage of customer's winter and summer tires. to accomplish this they installed Borroughs Rivet style tire racks to accomodate over 600 tires on their mezzanine.
Western Storage and Handling worked with the dealership to find the most effective way to layout the storage equipment in the parts department using Configura layout design software.